NIACC IT Summit
March 4, 2021 @ 1:00 pm

-

4:00 pm

Free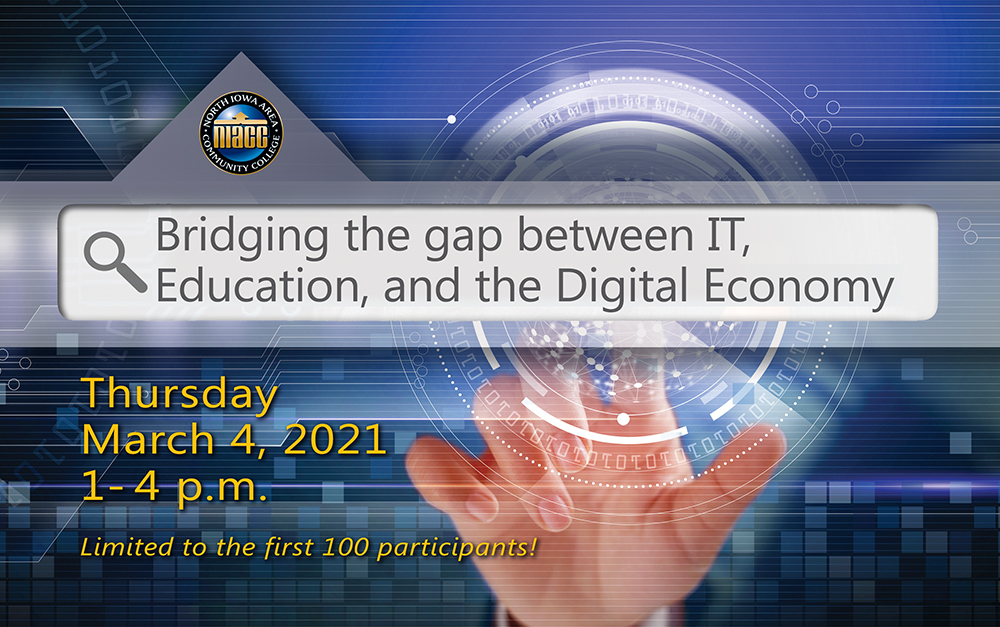 The NIACC IT Summit will be a high energy collaboration of educators from K-12, NIACC, and area businesses. The goal of the day will be to discuss and identify action items to strengthen and grow the Information Technology Ecosystem in North Iowa.
Schedule
1:00 – 2:20pm:  Panel Discussion: Why Iowa, Why Not North Iowa?
With multiple initiatives beginning to take hold in North Iowa around IT Education and the digital economy, how might we work together as Communities, Schools and Businesses to better build and scale a robust IT Education ecosystem and create a thriving digital economy?
Panel Participants:
Tony Brownlee, President, Kingland
Samantha Dahlby, Director of K-12 Education, NewBoCo
Ben Milne, Founder, Dwolla
Mike Trasatti, CEO, DealerBuilt
Moderated by: Brian Blodgett, CEO Next Generation Technologies & Tim Putnam, Director, NIACC Pappajohn Center
2:20 – 2:30pm: Break
2:30 – 4:00pm:  Let's hear from you!
This Collaborative Brainstorm Session will help us pull together the conversations from the panel discussion in determining the what and the how we move IT initiatives forward in North Iowa.
Moderated by Karie Terhark, Facilitator, HueLife
Register for the NIACC IT Summit
Register online or by calling NIACC Continuing Education at 641-422-4358