November 5, 2018
Golden Grain Energy: An Iowa Leader In Renewable Fuels, Supporting Local Economy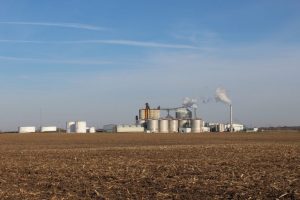 We celebrate the agricultural entrepreneurs of North Iowa. Iowa has a long history of innovators, inventors, and entrepreneurs who have changed the world with their technologies, products, services, and businesses. In honor of Agricultural Entrepreneurship Week, today we spotlight Golden Grain Energy of Mason City, a key player in North Iowa's agricultural entrepreneurship ecosystem.
The first Iowa ethanol plant—and second in the nation—to produce a billion gallons of the corn-based renewable fuel was Golden Grain Energy in Mason City. The plant, founded and owned primarily by North Iowa farmers, reached that mark in 2015, and is on track to produce its second billion within the next few years.
When production began in 2004, Golden Grain Energy's plant could produce 40 million gallons of ethanol a year. Expansions over the last 14 years, including the latest project which should come online in 2019, will bring its production capacity to 150 million gallons annually, along with the dried distiller's grains and corn oil that are co-products of the ethanol process.
Led by a board of directors made up of members, most of whom are North Iowa farmers and ag business leaders, Golden Grain's mission is "to add value to the corn production in the area and enhance the incomes of our investor partners while providing economic growth to the area we serve." With average annual corn purchases of $180 million, paying a premium to Iowa average corn price, GGE provides an important market for farmers, in addition to the return its members receive on their investment—dividends since start-up have totaled nearly 10 times the initial investment per share. Golden Grain also returns an average of $46 million annually to the community in payments to local vendors, and currently employs more than 50 local residents, with average wages and benefits of 45% greater than the county average.
"By supporting local farmers, local vendors, and employees who live here in North Iowa, we know that Golden Grain plays a role in strengthening the economy of Mason City and all of the surrounding towns where our members and the farmers who deliver grain to us live and spend their dollars," says board chairman Dave Sovereign.
Golden Grain Energy has also invested time and resources into continually improving efficiency at the plant, not only in terms of the gallons produced from each bushel of corn, but also in reducing energy usage.
Since 2005:
The conversion rate of corn into ethanol has increased by over 7 percent.
The amount of natural gas needed for each gallon of ethanol produced has dropped by over 9 percent.
The amount of electricity needed for each gallon of ethanol produced has dropped by nearly 7 percent.
Water usage in the production of ethanol has improved by 38 percent.
In addition to its own plant, Golden Grain Energy's board of directors has actively sought opportunities for the company to invest in other ethanol plants in multiple states, continuing to develop an industry that the members believe benefits not only those involved, but consumers and communities as well.
"Golden Grain Energy is a leader in providing clean, American-grown fuel that is more affordable at the pump," Sovereign says, "which benefits everyone."