November 6, 2018
Today we celebrate the agricultural entrepreneurs of North Iowa in recognition of Agricultural Entrepreneurship Week! Iowa has a long history of innovators, inventors, and entrepreneurs who have changed the world with their technologies, products, services, and businesses. Today we feature Michael Wallin of Wallin Genetics, a student entrepreneur with a passion for agricultural entrepreneurship.
Michael founded Wallin Genetics in 2017. Wallin Genetics produces quality show pigs at a competitive price. Michael got his start in 2011 in 4H, where he quickly found a passion for showing pigs. Michael discovered that most 4H families in his area only bought from one or two primary breeders; he realized that there was a market niche for quality show pigs at affordable prices. When young families are starting to get involved with 4H or Future Farmers of America (FFA), they tend to buy several lower quality pigs in order to make the most of their often modest budget.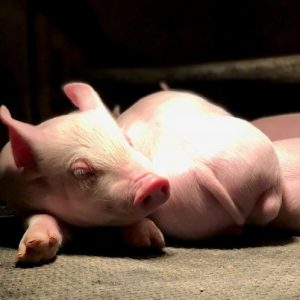 Wallin Genetics serves two primary customers: young families involved in 4H or FFA, and Jackpotters. Jackpotters are highly competitive individuals who seek out potential show winners and are willing to pay a good price to increase their odds of winning. Fulfilling the Jackpotter need for quality is a self-sustaining practice – a Jackpotter with a winning pig can help grow a breeder's brand very quickly as they compete every weekend for cash prizes. A winning Jackpotter is a natural source of advertising, and is one of the most desirable target customer for a breeder. Michael hopes to hold workshops in the future to teach younger families how to feed and exercise their pigs, growing their skills, confidence, and potential to become Jackpotters themselves.
In the summer of 2018, Michael attended the Youth Entrepreneurial Academy at North Iowa Community College. During this week-long entrepreneurship course, Michael polished his business plan, identified his ideal customers, practiced his marketing strategy, and honed his executive summary. At the YEA Pitch Competition, Michael was one of five student entrepreneurs who won $500 in seed money for his pitch. His goal is to market pigs towards larger breeders, which takes time and marketing to persuade them to try new genetics – and he also hopes to someday become a larger breeder himself, raising and selling hundreds if not thousands of show pigs per year.
Michael says, "Our focus is to raise show pigs that will compete at any level of competition." Helping his clients succeed is the linchpin of his business model. Michael is a young agricultural entrepreneur whose career is off to an exciting start.