Over the last fifteen years, Cabin Coffee has proved itself to be a sterling example of a locally owned Iowa company with deep roots, a commitment to community enrichment, and sustained regional economic impact. Cabin Coffee was founded by Brad and Angie Barber in 2002 when they realized that their small town of Clear Lake had an empty niche just crying out to be filled. Clear Lake is a vibrant tourist destination, home to a bustling Main Street district, year-round outdoors activities, and the Surf Club, a nationally recognized historic music venue. One thing Clear Lake didn't have? A cozy, community-oriented, Main Street gathering place – in short, a coffee shop. Once the idea was born, Brad and Angie Barber came to the North Iowa Area SBDC in 2003 looking for help growing their business model and franchising.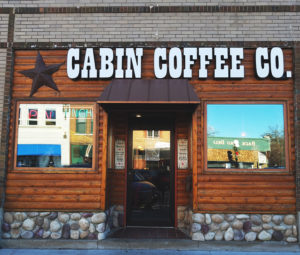 The North Iowa Area SBDC has had a relationship with Cabin Coffee since 2003, under the leadership of then-director Rich Petersen. Brad and Angie came to the SBDC specifically looking for help in franchising. Over the years, Brad and Angie have worked with the North Iowa Area SBDC consultants including Director Tim Bair and, later, Tim Putnam. In 2010, Brad and Angie worked with Tim Putnam to create a franchising business plan and entered the Pappajohn Entrepreneurial Venture Competition. Brad and Angie used the competition as an opportunity to develop their vision of growing Cabin Coffee through owner-operated franchises. Working with Tim Putnam allowed them to figure out how to sell the franchise to potential franchisees, including a focus on culture and creating a franchisee-friendly organization.
Brad and Angie Barber launched Cabin Coffee with the intention of creating a business that would root their family firmly in the North Iowa region. Brad and Angie are passionate about growing their business in North Iowa and remaining true to their origins. Cabin Coffee makes it a point to work with fellow local Iowa businesses at every level. Cabin Coffee uses Financial Freedom of Mason City, Iowa for all of their accounting needs, and requires their franchisees to utilize their services as well. While Cabin Coffee has expanded to 16 franchises (6 retail locations in Iowa, 10 additional locations from Minnesota to Colorado to Georgia), Brad and Angie have expressed their resolution of keeping their headquarters in North Iowa, no matter how big the business may grow. "We started here and we have a commitment to staying in this area," Brad says. To Brad and Angie, reinvesting their business success back into their small Iowa community is one of the most important aspects of running a business.
Not only do Brad and Angie Barber support their fellow local North Iowa businesses, they have also extensively supported local youth entrepreneurial programs and education, particularly those sponsored by the North Iowa Area SBDC and the NIACC John Pappajohn Entrepreneurial Center. The Barbers have been key contributors to the Youth Entrepreneurial Academy (YEA) and Be Your Own Boss (BYOB). The Youth Entrepreneurial Academy affords local students the chance to come to the North Iowa Area Community College campus for a week-long entrepreneurship camp. Students learn the secrets behind turning a passion into a viable business. Students attend not only seminars and guest speakers, but also take part in hands-on activities and field trips to the behind-the-scenes reality of running a business. At the end of the week, students compete in a business plan competition to win seed money to launch their business. Brad and Angie worked closely with students, acting as mentors and facilitators, and working with the students to develop their business plans for competition. Their in-depth involvement with YEA and BYOB has been very impactful for the students; students have the opportunity to learn from successful local entrepreneurs who are passionate about their business and their community. The students not only listen to entrepreneurs talk about their experiences firsthand, but they also work closely with those entrepreneurs to create their own business ideas and business plans, benefiting from the Barbers' real world experience. At the end of the Youth Entrepreneurial Academy, each student receives a $500 scholarship to NIACC, with up to $2000 in scholarships available to students who go on to enroll in the NIACC Associate in Business/Entrepreneurship Degree program.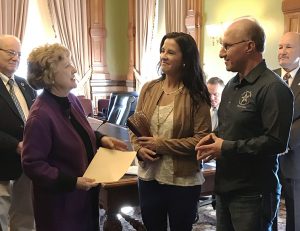 To Brad and Angie, a running a successful business isn't just about making money. "We're all interdependent," Brad says, "and we all need each other." The economic impact of our local businesses is an important consideration to Brad and Angie. They have been active in supporting the recent local economic development initiatives, including the Riverside Renaissance project, the North Iowa Corridor's Vision North Iowa strategic plan project, and have founded a local organization (United We Serve) that encourages grassroots involvement in all aspects of community enrichment, including entrepreneurship and volunteerism. Their significant local presence and sustained regional economic impact, has made Cabin Coffee a local leader.
Brad and Angie Barber won the America's SBDC - Iowa Neal Smith Award in 2018. In 2019, the U.S. Small Business Administration named Brad & Angie as the national First Runner-Up for the 2019 Small Business Person of the Year Award.
---
Brad and Angie's entrepreneurial story is highlighted this week as part of the #IAmAnEntrepreneur series for Global Entrepreneurship Week 2020. Learn more about Global Entrepreneurship Week in North Iowa.