February 9, 2018
The NIACC Pappajohn Center and North Iowa Small Business Development Center (SBDC) now offer the Startup Factory Network for the first time in rural Iowa.
Startup Factory is an innovative program for entrepreneurs to take promising high-growth ideas to market. The first three Startup Factory classes (or cohorts) were only offered on-campus at Iowa State University in Ames. Over the last two years, Startup Factory has compiled an enviable record of entrepreneurial success. Startup Factory is among the top performing startup assistance programs in the nation. More than 40% of early participants are already successfully launched with paying customers. Participants have raised more than $6M in early startup capital. Now the Pappajohn Center is offering the Startup Factory Network program in North Iowa to grow success stories here, without the need to relocate out of rural Iowa.
Startup Factory is a 52-week program that seeks to create million dollar plus business success stories.  Successful commercial launches serving paying customers are possible using the proven Lean Startup system. Startup Factory chose the Pappajohn Center to pilot hometown delivery in rural markets and the virtual class model because of our expertise in rural entrepreneurship.
Startup Factory features competitive selection. In November of 2017, the Pappajohn Center and North Iowa SBDC held a presentation for potential Startup Factory Network applicants. Prospective applicants were invited to attend in person or remotely. Of the 27 area attendees, 13 applied to the Startup Factory Network. 5 of these local entrepreneurs made it through the competitive application process and were accepted into the inaugural Startup Factory Network cohort.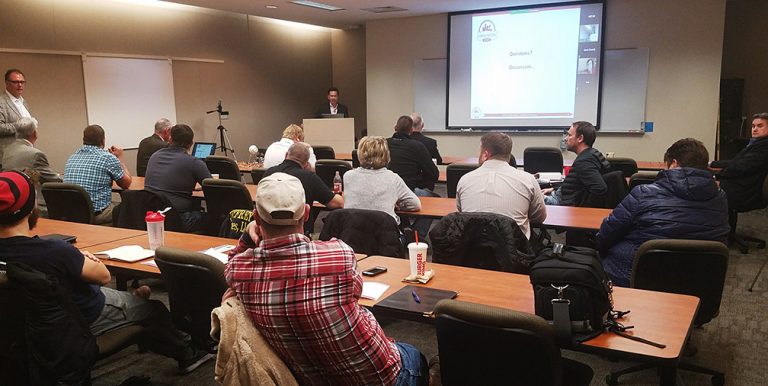 We are proud to announce the following successful local applicants to the 2018 Startup Factory Network cohort: Lindsey Falk (L.R. Falk Cut Stone), TJ Hauser (EcoPits), Josh Mack (Charles City Fiber), Ryan Thul (Smart Stat), and Lark Trygstad (SageLink).
The Startup Factory Network meets weekly, with the option of either virtual connection via video conference or team meetings at the NIACC Pappajohn Center. This reduces the burden of travel, especially in winter months, and better fits into participants' work and family lives. The combination of in-person and virtual interaction still offers participants the full depth of combined resources available through Iowa State, America's SBDC network, and the Pappajohn Center.
Pappajohn Center Accelerator Director Dan Winegarden interviewed Bill Adamowski of the Startup Factory about bringing this unique accelerator program to rural Iowa: