October 3, 2018
The 2018 Pappapjohn Entrepreneur Gala celebrated North Iowa's entrepreneurs on September 26th at a special recognition event at North Iowa Area Community College in Mason City. Entrepreneurs and businesses across North Iowa were invited to apply for four awards categories: Young Entrepreneur of the Year, Entrepreneur of the Year, the Innovation Award, and Business of the Year. Twelve finalists were named, and the winners were announced at the gala.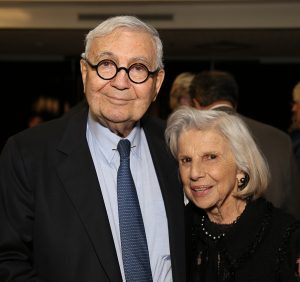 John and Mary Pappajohn were honored with the Pappajohn Entrepreneur Legacy Award. The Legacy Award recognizes an entrepreneur who has made significant contributions to North Iowa through their vision, their passion, and their leadership.
Mr. John Pappajohn delivered the keynote address and made a surprise announcement awarding cash prizes to the award winners and finalists.  Mr. Pappajohn also announced a surprise $250,000 donation to the NIACC Scholarship Fund.
---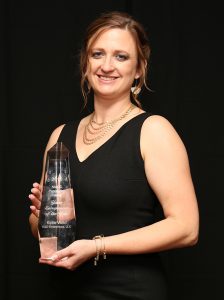 Katie Wold of K&D Enterprises (Mason City, IA) received Young Entrepreneur of the Year and was awarded $5,000. Katie Wold is an artist turned entrepreneur who founded K&D Enterprises in order to open a boutique retail market in downtown Mason City. Katie undertook an extensive building rehabilitation on North Delaware – now Market 124 provides space for several tenants as well as an extensive boutique, and has been a major part of the downtown business district revitalization initiative.
Young Entrepreneur of the Year finalists Derek Engh (North Iowa Lumber & Design; Britt, IA) and Jill Howarth (NuTreatment; Clarion, IA) were awarded $2,500 each.
---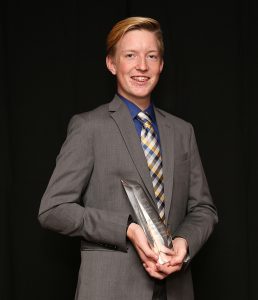 The judging committee awarded a special recognition to student entrepreneur Denzel Decker (Waukon, IA) for his business, Decker Delish. Denzel received an award of $1,000 for this recognition. Denzel founded Decker Delish in 2016 at the age of 12. Denzel also attended the Summer 2018 Youth Entrepreneurial Academy at NIACC. Decker Delish sells cupcakes at weekly farmers markets, vendor shows, via direct order, and directly to businesses and event venues. Denzel has built an admirable business venture, displaying financial acumen and a strong grasp of marketing and community responsibility, all before the age of 16.
---
Dustin Balsley of Performance Livestock Analytics (Ames, IA) received Entrepreneur of the Year and was awarded $5,000. Dustin Balsley co-founded Performance Livestock Analytics in 2015. Performance Livestock Analytics helps livestock producers, many of whom are family farmers right here in Iowa, solve complex data management issues and decisions in a volatile market. Performance Livestock Analytics has grown from a startup to an organization with over 1 million in revenue in three years, and has been recognized as one of the fastest growing Ag Tech companies in the United States, revolutionizing the livestock industry.
Entrepreneur of the Year finalists Cody Purvis (Pampered Pets Retreat & Spa; Kanawha, IA) and Bob Rolling (Lake Time Brewery; Clear Lake, IA) were awarded $2,500 each.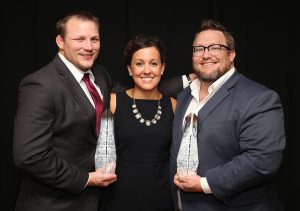 The Art of Education, founded by Jessica Balsley (Osage, IA), received the Innovation Award and was awarded $5,000. Jessica Balsley founded the Art of Education in 2011. The Art of Education has become the largest provider of professional development for art teachers around the world. By developing and implementing online courses, The Art of Education competes on a global level. The Art of Education's distance education courses, conferences, workshops, and other valuable resources provide unique and practical learning opportunities for every art teacher at every stage of their career.  
Innovation Award finalists EZ Manufacturing (Bruce and Connie Goddard; Charles City, IA) and Sukup Manufacturing Co. (Sheffield, IA) were awarded $2,500 each.
---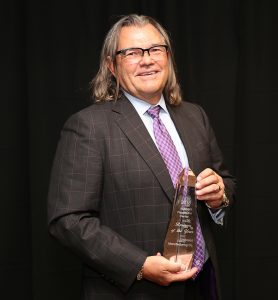 Sukup Manufacturing Co. (Sheffield, IA) received Business of the Year and was awarded $5,000. Sukup Manufacturing is the world's largest family-owned and operated grain storage, drying and handling equipment manufacturer. The company is headquartered in Sheffield, Iowa, and covers 1,000,000 sq. ft. of office, manufacturing and warehouse space. The company employs more than 600 people, making it one of the largest employers in North Central Iowa. In the last 15 years, Sukup Manufacturing's sales have grown by 800% and the company has increased employees by 200%. Sukup Manufacturing is driven by innovation and a culture of giving back – to its employees, to its community, and on a global scale with the Sukup Safe T Home.
Business of the Year finalists Legacy Logistics Freight, Inc. (Sarah and Brian Novacek; Mason City, IA) and Kingland Systems (Clear Lake, IA) were awarded $2,500 each.