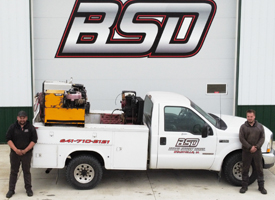 The NIACC John Pappajohn Entrepreneurial Center and North Iowa Area SBDC are proud to recognize Ross Bissen & Cole Kruse of Broad Street Diesel & Performance in Stacyville, IA as the June 2021 Entrepreneurs of the Month.
Ross Bissen and Cole Kruse founded Broad Street Diesel & Performance in 2017. After years of experience working in different shops, Ross and Cole felt like it was time to strike out on their own. It was time to convert their expertise and interest into their own business.
Broad Street Diesel & Performance is a full service diesel repair shop located in Stacyville, IA. Ross and Cole had the expertise and they knew they had a market. "When it comes to diesel," Ross says, "There's always more trucks than mechanic shops." When a promising building came up for sale in Stacyville, Ross and Cole started making plans. After talking to the building's owner and the bank, they connected with the Mitchell County Economic Development Commission. The bank and EDC both recommended that Ross and Cole contact the NIACC John Pappajohn Entrepreneurial Center & SBDC.
One of the key steps in starting a business, according to Ross, is making sure you have a solid foundation. "Before we even started working on trucks, we got the accounting and the legal set up," Cole says. Ross and Cole built their business foundation by attending the Pappajohn Center's entrepreneurial program Launch & Grow, a precursor to the current Venture School program. Launch & Grow was an intensive 10 week program, designed to help entrepreneurs and business owners create the building blocks of a successful venture, from cash flow to customer discovery.
Ross and Cole have their own advice for entrepreneurs: be ready to put in the work and make connections. Building a team of good partners in the community can make a difference in getting your business started, from economic development to key professionals like accountants, lawyers, and bankers, and especially other entrepreneurs. Ross says, "We talked to other shop owners and got their advice, what they did right, what they wished they'd done differently." He added, "The biggest thing from day one is to put in the time and do it right."