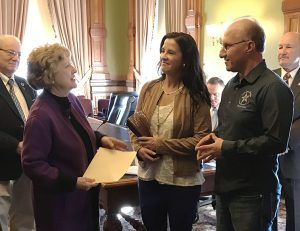 Brewing Hometown Success
Brad and Angie Barber, Clear Lake, IA
The Cabin Coffee Company was founded by Brad and Angie Barber in 2002 when they realized that their small town of Clear Lake was missing something. Clear Lake is a vibrant tourist destination, home to a bustling Main Street district, year-round outdoors activities, and the Surf Ballroom, a nationally recognized historic music venue. One thing Clear Lake didn't have? A cozy Main Street gathering place – in short, a coffee shop.
Brad and Angie Barber launched Cabin Coffee, and when it came time to expand through franchising, the Barbers worked with the NIACC John Pappajohn Entrepreneurial Center and America's SBDC Iowa. Brad and Angie are passionate about growing their business in North Iowa and remaining true to their community. Over the last fifteen years, the Cabin Coffee Company has expanded to 15 franchises (5 retail locations in Iowa, 10 additional locations from Minnesota to Colorado to Georgia). Brad and Angie have expressed their resolution of keeping their headquarters in North Iowa, no matter how big the business may grow. "We started here and we have a commitment to staying in this area," Brad says.
To Brad and Angie, reinvesting their business success back into their small Iowa community is one of the most important aspects of running a business.Not only do Brad and Angie Barber support their fellow local North Iowa businesses, they also support local youth entrepreneurial programs and education. The Barbers have been key contributors to the Youth Entrepreneurial Academy (YEA). YEA affords local students the chance to come to the NIACC campus for a week-long entrepreneurship camp. Brad and Angie act as mentors and facilitators, and help guide the students through developing their business plans for competition. The students not only listen to entrepreneurs talk about their experiences firsthand, but also work closely with those entrepreneurs to create their own business ideas and business plans, benefiting from their real world experience. To Brad and Angie, a running a successful business isn't just about making money. They see reinvesting their time, energy, and money back into the community as both a perk and a responsibility. "We're all interdependent," Brad says, "and we all need each other."
Brad and Angie Barber recently won the 2018 Neal Smith Entrepreneur of the Year award, presented by America's SBDC Iowa and selected from a state-wide pool of applicants. The award honors a successful Iowa entrepreneur in order to encourage the Iowa culture of entrepreneurship, the driving force behind Iowa's economic growth. The Neal Smith award recognizes excellence in Iowa entrepreneurship, particularly in entrepreneurs who are dedicated to enriching their community. Brad Barber said, "We are thankful for our team members for all their support – we could not have accomplished our success without them; the faith our franchise owners and their team have in us; and furthermore, for the expertise and support the NIACC Pappajohn Center and Iowa SBDC have provided for Cabin Coffee to be successful. We have truly enjoyed the adventure and look forward to experiencing many more years growing Cabin Coffee working with businesses in North Iowa and world-wide finding more ways to add value to each and every community."
Brad and Angie Barber were presented with the 2018 SBDC Neal Smith Entrepreneur of the Year Award in a special ceremony on March 8th at the State Capitol in Des Moines.