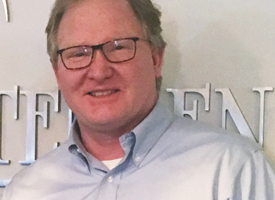 Russ Gibson - March 2019 Entrepreneur of the Month
The NIACC John Pappajohn Entrepreneurial Center and the North Iowa Area SBDC are proud to announce Russel Gibson of Christensen Jewelry as the Entrepreneur of the Month for March 2019.
Russ Gibson bought Christensen Jewelry in Hampton, Iowa in 1988 but his entrepreneurial journey began at a much earlier age. Russ grew up surrounded by an entrepreneurial mindset – his parents owned a shoe store and a clothing shop, and there was always business talk around the table. He started his first business at the age of 13, cleaning offices throughout high school. The lessons he learned as a young entrepreneur would continue to shape his journey, as each step laid the foundation for the next step to come.
Russ first learned about designing and fabricating jewelry as a sophomore in high school. He convinced his art teacher to let him take Art Metal and Jewelry as many times as he could, learning stone faceting, fabrication, and design. After college, Russ attended a jeweler's institute and took watchmaking classes. He was awarded a full scholarship to attend the prestigious Watchmakers of Switzerland Technical Education Program in Neuchatel, Switzerland. After graduating and working as a watchmaker for a year, Russ was contacted by the owner of a trade shop in his southeastern Iowa hometown who was ready to retire. Russ purchased the trade shop where he did wholesale work for jewelry stores, repairing high end Swiss watches, taking on big restoration jobs, and building his business foundation.
After a year of working 60 hour weeks and growing his wholesale business, Russ was faced with a new opportunity. The owner of Christensen Jewelry in Hampton was ready to retire and was looking for someone to take over the business. Russ was ready to take the next step.
"At a younger age, being in jewelry school and watchmaking school, I knew I wanted my own jewelry store. I thought I might be able to get there by age 40. I was able to do it at age 23." Russ attributes that early success to working hard to put himself in a position to take advantage of opportunity when it arose. "Working like that – no customers to take care of, just grinding out projects 60 hours a week – put me in the position to build enough equity to work with Rich Petersen and the local bank in Hampton to make it happen."
"Everything happened very fast," Russ said. "With help from my local SBA and the North Iowa Area SBDC, I secured a guaranteed bank loan. Two weeks later I was living in Hampton and running a jewelry store." Although he had entrepreneurial experience, Russ knew he needed to learn more. He enrolled in the first FastTrac® course from the NIACC Pappajohn Center (later renamed Launch & Grow). "Taking the time to really take a critical look at your business was a fundamental shift for me. Being a bench jewelry and watchmaker, FastTrac® turned me into a business person, showed me focus on what made my business work and not work, and made me understand who I really am as an entrepreneur."
Russ has continued to grow as an entrepreneur, relying on a combination of following his passion for jewelry and watchmaking, and realizing that opportunity is a combination of hard work, making connections, and persistence. While running Christensen Jewelry, Russ has also founded and run several additional enterprises – Atomic 22 (wholesale non-traditional materials jewelry), three Verizon Wireless retail stores, Dixie Chopper lawnmowers, video stores, tanning salons, and commercial and residential real estate.
Christensen Jewelry is the oldest business on Hampton's Main Street and is an important anchor to the downtown business district. Russ says, "Even though we're in a town of 4200 and they say small town jewelry is a tough gig, we're an industry leader in our area. We do a lot of things that other jewelers can't or won't. I truly love coming to work every day."