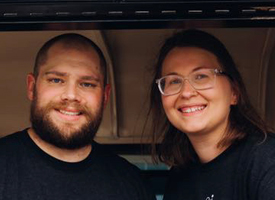 Kayla Nagel- October 2023 Entrepreneur of the Month
The NIACC John Pappajohn Entrepreneurial Center and North Iowa Area SBDC are proud to announce Kayla Nagel of Fizz Co. in Clear Lake, IA as the October 2023 Entrepreneur of the Month.
Fizz Co. is a full-service non-alcoholic beverage company that serves both public and private events, operating out of an Instagrammable renovated horse trailer with a new vintage look. Kayla was inspired to start her business by the experiences of friends and family who have chosen the sober lifestyle. "We go to a lot of events outdoors in Clear Lake and I noticed there was a lack of options for people who don't drink," she noticed. Kayla saw that there was a niche in the market to create delicious and unique flavors for customers of all ages and lifestyles.
Kayla hasn't always seen herself as an entrepreneur, but she has always been a creative. "During the pandemic, I really started to dig in and try to find something that fulfilled that creative longing," she said. The idea for Fizz Co. began to evolve while watching videos of mobile pop-up bars. Kayla loved the idea and thought it would be a great addition to North Iowa's many events and activities. "I really loved that idea, but I didn't want to be a bartender, especially as someone who doesn't drink very often and has a lot of people in my life who don't drink," she said. Kayla combined the trendy mobile bar concept with her observations of a gap in the market, and Fizz Co. was born. Fizz Co. provides unique flavor combinations at both public events and private catered events, with caffeinated and caffeine-free options. "What makes me jump out of bed in the morning is being able to use my creative spirit in my business – creating new menus and flavor combinations while also working with my husband and my family," Kayla said.
One of the most important aspects of running a profitable retail business is getting your numbers and your target market down, according to Kayla. "It's really fun do all of the creative parts of a business, but it's really the things you don't think about that are so important," she said. To make sure that her business had a strong business plan, Kayla worked with the NIACC Pappajohn Center and SBDC, and enrolled in the Mason City cohort of the University of Iowa Venture School. Venture School is a 7-week entrepreneurial training program that helps aspiring entrepreneurs master the startup process. Kayla said, "You don't have to have it all figured out to start. I knew as a new business owner that there are so many things I don't know. I figured Venture School could help me with that – and they did!"