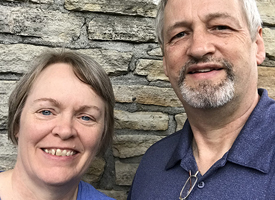 Deb and John Currier - October 2018 Entrepreneur of the Month
The NIACC John Pappajohn Entrepreneurial Center and the North Iowa Area SBDC are proud to announce Deb and John Currier of Got You Covered as the Entrepreneurs of the Month for October 2018.
Got You Covered is a full service retail/decorating shop specializing in screenprinted and embroidered clothing, athletic uniforms and fan wear, gifts, and other personalized promotional products in Hampton, Iowa. Deb Currier founded Got You Covered in 2003 as a part-time business, working out of her home with a single embroidery machine. The business continued to grow quickly as more embroidery machines, a screen print press, DTG (direct-to-garment) printing, and vinyl applications were added. In November 2009, the Curriers purchased a building in Hampton to open a brick and mortar retail store with the goal of converting the garage area on the back of the building to a heated embroidery and screen print shop. Got You Covered retail opened in March 2010. John joined Got You Covered fulltime in September of 2010 leaving his previous employment. The garage renovations were completed in 2013 and the screen/embroidery shop was moved to Hampton from Butler County. Deb and John began working with the NIACC John Pappajohn Entrepreneurial Center and North Iowa Area SBDC in 2005.
In 2010, Deb and John completed the Pappajohn Center's Fast Trac course (the predecessor to today's Launch & Grow), a 10 week program that guides entrepreneurs through creating a business plan, cash flow, and the other fundamentals of starting and growing a successful business. Deb said, "The Fast Trac class helped us to focus on our niche so that everything we were doing served that market." Deb has always had an entrepreneurial mindset and a flair for business. With a keen focus on their market's wants and needs, the Curriers have grown Got You Covered steadily, proving that local businesses can survive and thrive in the face of online competition. Got You Covered focuses on serving the community by branding local businesses, local schools, clubs, organizations, events, and fundraisers. Deb attributes Got You Covered's success to this strong local foundation and sincere, engaged customer service. Customers trust the face-to-face relationship and accountability that come from shopping local.
Got You Covered has thrived despite the pressures of online competition by focusing on their strengths: quality products, exceptional customer service relationships, and a dash of innovative entrepreneurial thinking. Got You Covered offers personalized online stores with customized products for local organizations and events like booster clubs or fundraisers.  Eliminating the hassle of order taking and funds collection, this creates an easy channel for local organizations to sell their promotional items.  It also supports local fundraisers and local businesses with one convenient webstore.
Deb and John are community-oriented entrepreneurs who engage with and give back to their community through involvement in Rotary, Kiwanis, and their local church. Got You Covered is a classic entrepreneurial success story. Brook Boehmler, Regional Director of the North Iowa Area SBDC, said "Deb and John Currier are a great example of successful business owners and long-time clients who combine a passion for entrepreneurship with determination and strategic thinking."