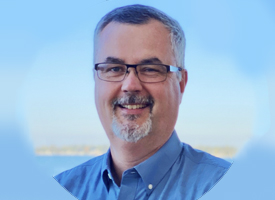 Jon Tofte - May 2023 Entrepreneur of the Month
The NIACC John Pappajohn Entrepreneurial Center and North Iowa Area SBDC are proud to announce Jon Tofte of I-35 Auctions in Clear Lake, IA as the May 2023 Entrepreneur of the Month.
Jon is the founder and CEO of I-35 Auctions, a timed, online auction company serving northern and central Iowa and southern Minnesota. Their specialty is commercial and industrial equipment from construction to manufacturing, agriculture to restaurant and hospitality, recreational vehicles, and everything in between. I-35 Auctions also holds estate auctions for items including household goods, coins, and jewelry. I-35 Auctions is an independent affiliate with K-Bid, an online auction platform with a strong focus on marketing and easy-to-use software. Jon first became interested in the auction platform while looking for equipment he wanted to buy for himself. He noticed a banner on the K-Bid website that said "Become an Affiliate" and the seeds of entrepreneurship were sown. "I'd wanted to strike out on my own for a while," Jon said. "I felt that I was a good fit for it so I jumped into it."
After decided to make the jump into entrepreneurship, Jon enrolled in Venture School in Fall 2019 on the recommendation of friend and fellow entrepreneur Chris Garden of L&J Industries. Venture School is an eight-week program held bi-yearly in North Iowa by the NIACC Pappajohn Center in partnership with the University of Iowa. "I'd talked to him about my thoughts and plans, and Chris told me, 'You need to go to Venture School.' And I said well, I'll give it a shot," said Jon. "It was difficult to make the time commitment because I was working full-time at the time, but it was extremely helpful. The teaching was professional and challenging."
I-35 Auctions now occupies 8,200 square feet of warehouse in Clear Lake. Jon sees his work with K-Bid, an online auction platform based in Minnesota, as a partnership. He appreciates the personal touch and family-oriented environment of the locally-owned business. "Working with a locally-owned business makes both of us successful. We are their first successful operation in Iowa, and they've gone above and beyond to support me in turn," he said. Jon also sees his location in Clear Lake as the perfect place for his clients and customers. "The I-35 thoroughfare is a major convenience. We're very easy to get to – you get on the interstate and you're here."
"Building a business takes a lot of determination," Jon said. He believes that resourcefulness is one of the most important characteristics an entrepreneur can practice. The classic example of entrepreneurial resourcefulness is to try out an idea, assess its success, and then move on to a better idea if that one doesn't perform to expectations. "I had a few false starts but I learned from that. I had to try several different things before this came together but I'm feeling pretty good about where we are on this one," he said.
"There's a definite trust factor in this business," said Jon. "We get a lot of repeat customers. As long as we're being straight shooters with them, and they feel like they're getting a good deal, they're coming back again and again because they want these items for their businesses." When customers bid at I-35 Auctions they know they're getting everything they need, from the quality of their items to help arranging transportation. The recent supply chain challenges have only helped I-35 Auctions establish its reputation as a go-to supplier. "Sometimes buying used is the only option for some of these businesses right now," Jon said. "They just can't get items any other way because of the supply chain."
Jon has a few words of advice for other entrepreneurs just starting out: "Be willing to take it slow and don't expect too much too fast. Talk to a lot of people and challenge your beliefs. Each failure is just a practice run to success. Keep at it." He added, "The Pappajohn Center & SBDC support is really something. We've got something special in North Iowa with it here."