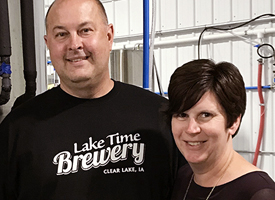 Bob Rolling - June 2018 Entrepreneur of the Month

The NIACC John Pappajohn Entrepreneurial Center and the North Iowa Area SBDC are proud to announce Bob Rolling of Lake Time Brewery as the Entrepreneur of the Month for June 2018.
Lake Time Brewery was founded by Bob and Suzy Rolling in 2012. Bob's interest in craft beer started in 1999 as a homebrewer and really picked up when he was a stay-at-home dad for a year – with some extra time on his hands and a lot of motivation while watching the kids, he began to perfect his home brewing recipes. As his skill increased, he realized that Clear Lake was the natural place for a microbrewery and taproom – and if he didn't do it, someone else would. Clear Lake is a popular tourist destination whose population nearly doubles in the summer. The numerous festivals, street fairs, and events bring in a healthy crowd of tourists year-round. The eponymous lake draws vacationers, while the Surf Ballroom (a historic landmark music venue and site of Buddy Holly's last concert) is a perennial attraction for music enthusiasts. As the craft beer industry continues to grow, microbreweries and taprooms are rising in the ranks as tourist destinations. The growing craft beer industry is a great draw for small towns, and insightful entrepreneurs with a passion for brewing like Bob Rolling are seizing the opportunity.
In 2012, Bob enrolled in the Launch & Grow Your Business course at the NIACC Pappajohn Center. "For me," Bob said, "it was about getting all your ideas and funneling them down into one piece of paper, a business plan. I actually still go back and look at it." In June 2013, Bob opened Lake Time Brewery as a small batch operation with a modestly sized taproom in downtown Clear Lake. Within 5 years, the Lake Time taproom was a hit with both locals and tourists alike, and was distributing to 23 counties across northern Iowa and 8 counties in the Des Moines/Ames area. Lake Time Brewery has been featured in several industry publications including Brewery Magazine, Brew Your Own, and Perfect Pour. The loyal following of craft beer enthusiasts across the Midwest continues to grow, consistently ranking Lake Time Brewery as high on the list of Iowa craft brewers and driving requests of an ever-wider distribution range.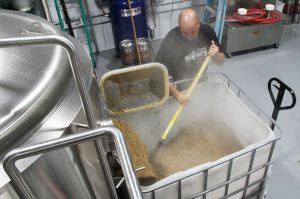 With Lake Time Brewery established as a favorite destination for locals and tourists alike, Bob believed it was time to take the logical next step. His vision was to expand his distribution to include cans as well as kegs, growing from a single barrel operation to a 15-barrel operation with 30 barrel fermenters and a 5 barrel pilot system. Lake Time Brewery's motto for the expansion is: "Our mission is to make great craft beer and make it available to our customers when they want it, not just when our taproom is open." Bob worked with the NIACC Pappajohn Center and North Iowa Area SBDC to achieve this goal. The Lake Time Brewing canning line began operation in May 2018. Lake Time beer is no longer just a local or regional favorite, but now found statewide.
Lake Time Brewery is one of the many locally-owned and operated small businesses that make Clear Lake a dynamic entrepreneurial community. Lake Time Brewery is a fixture at Thursdays on Main, a community event that takes place every week in the summer in Clear Lake with food trucks, vendors, activities, and other family-oriented fun. Lake Time Brewery is also the sponsoring host for Brews on the Beach craft brew fest, an annual event held in conjunction with the Bicycle, Blues & BBQ Festival every July. Bob Rolling and his team at Lake Time are a great example of how skill, passion, and hard work come together to make a thriving community business.
Tim Putnam, Director of the NIACC Pappajohn Center, said, "It has been really exciting to see what Bob and Suzy have done with Lake Time Brewing since attending the Launch and Grow Your Business classes at NIACC. Lake Time Brewery has seen steady growth from year over year. Over the last two years the Rollings have really taken their vison to the next level with the addition of a production faculty and now the canning line. The Rollings have also utilized the all the resources around them to position the Lake Time brand to be a well-respected craft beer in Iowa and soon to come the Midwest!"
Bob Rolling said, "The past five years has been a lot of fun!  We have learned a lot about business and relationships.  It has been a pleasure getting to know the community and being able to give back when we can.  We have come a long way and can't wait to see what the next five years holds in store for us!"