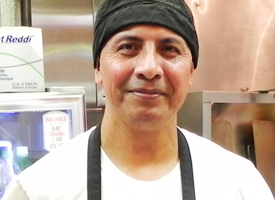 Luis Garcia - August 2018 Entrepreneur of the Month
The NIACC John Pappajohn Entrepreneurial Center and the North Iowa Area SBDC are proud to announce Luis Garcia of Mr. Taco as the Entrepreneur of the Month for August 2018.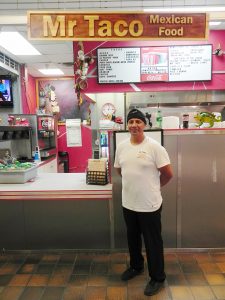 When Luis founded Mr. Taco in 2011, it was one of the first food trucks in Mason City, Iowa. The food truck movement has been slow to start and expand in the rural Midwest, but Luis quickly made Mr. Taco a household name by parking outside Mason City Brewing on weekends or in an empty lot near downtown Mason City and simply selling delicious food. Luis is a passionate entrepreneur who loves what he does, loves serving his customers, and loves bringing authentic Mexican food to rural Iowa. Mr. Taco captured the hearts (and stomachs) of Mason City by serving not only the ground beef tacos or enchiladas you might expect to find in rural Iowa, but also dishes inspired by the traditional fare of the Veracruz region in eastern Mexico. One of his hottest selling items is the Zombie Taco – a delicious and spicy mix of beef intestines and pork brains. Luis is also a bold entrepreneur; as the Mr. Taco food truck grew into a mobile Main Street mainstay, Luis recognized that there was an opportunity to expand if he was willing to take the risk. Luis worked with the Pappajohn Center  to prepare for Mr. Taco's next big step.
Luis is from Northwood, Iowa – a small town 20 miles away from Mason City – and knows how important small business is to a small community. He doesn't just want to be successful on his own; he's keenly aware of his role in the entrepreneurial ecosystem as a whole and wants all of Mason City to flourish. Luis surprised the many Mr. Taco fans by deciding to open a restaurant location in Mason City's Southbridge Mall. Like many malls across America, the Southbridge Mall has been hit hard by the modern world. Despite its prime location in the heart of Mason City surrounded by important architecture, cultural landmarks, locally owned restaurants, and independent boutiques, the Southbridge Mall was steadily losing tenants. Luis felt strongly that establishing a location at the mall was a way for him to leverage Mr. Taco's success and popularity to give residents and tourists another reason to visit downtown Mason City. Luis took a bold step in establishing a Mr. Taco location in the mall food court – but it was a bold step that paid off.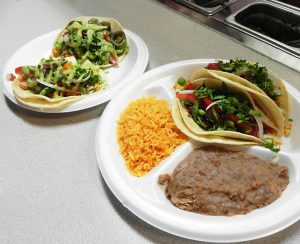 Mr. Taco opened its Southbridge Mall location in February 2016 and his fans followed. An estimated 500 customers showed up on opening day and the demand continues to hold strong. During the lunch time rush, you can find Luis working with his employees to serve a steady line of customers. In March 2018, Luis expanded again by opening Mr. Churro and the Sub Marine Soups & Sandwich Shop (two additional locations in the Southbridge Mall) further diversifying his menu to desserts and sandwiches on homemade traditional bread. Luis will be visiting Mexico for two weeks in September to learn more about making traditional Mexican bread; Mr. Churro and the Submarine Shop will be then combining to create an authentic Mexican baker serving both sweet and savory fare. Luis also sees this bakery as another connection to the community – one of his goals for the near future is to hold a Dia de los Muertos celebration at the new bakery in the fall, welcoming the community to share this holiday for remembering those who have passed. Luis Garcia is an inspiring example of an Iowa entrepreneur who shows how hard work and a commitment to quality can turn a "weekend business" into a thriving endeavor.