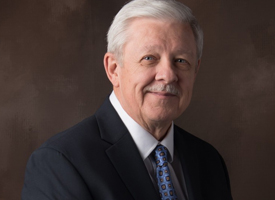 David Steffens, Jr. - January 2021 Entrepreneur of the Month
The NIACC John Pappajohn Entrepreneurial Center and North Iowa Area SBDC are proud to recognize David Steffens, Jr. of Norseman Trucking Co. in Lake Mills, IA as the January 2021 Entrepreneur of the Month.
Norsemen Trucking was founded by David Steffens Sr. after retiring from his first career in law enforcement. He started with a single truck, then purchased a trucking company in Waseca, MN, moving the entire operation to Lake Mills, IA in 1981. Norsemen Trucking (along with Norsemen Transportation and Norsemen Specialized) is now a complete Logistics Company, with a fleet of 55 trucks with company drivers, 40 owner operators, and a variety of agents specializing in all traffic lanes.
As with many businesses that are purchased by a new owner, Norsemen Trucking's growth strategy began by focusing first on retaining the existing customers, then expanding thoughtfully and with a commitment to their founding principles. David Steffens, Jr. says that Norsemen's key founding principle has always been customer service. "Customer service is something that we thought was lacking in the trucking industry and felt that we would be rewarded if we were able to provide it," he explains. One of their early customers, a US Postal Service mail contract, became one of their enduring examples. The lessons learned by starting with the mail contract – a highly important public service that demands excellent service and commitment to a strict time schedule – helped Norsemen develop a specific customer-oriented mindset and apply it to the freight business when their customer base began to expand. David says, "It's really important to do what we say we're going to do. If you do that, you'll be rewarded in the bad times."
As Norsemen Trucking has expanded, David has applied these same principles to the community, looking for opportunities to help support other businesses in the area. Building a strong local economy of dynamic businesses is important to him. By encouraging and supporting local business and industry, David believes North Iowa can not only attract new residents but also retain our best and brightest by creating job opportunities. "There's been a lot of truly innovative and dynamic companies that have started and grown here," he says. "We need to find ways for that to continue."
David serves on the North Iowa Area Community College board which has given him more opportunity to make a difference in the community. "NIACC supports so many different things in our community from performing arts to training our workforce to providing a cost effective way for our youth to advance in educational opportunities," he says.
David has a few words of advice for entrepreneurs starting a business. He says, "Who are your customers? The most important thing isn't your great idea. It isn't your ability to raise money. It is are you able to sell your product, are you going to be able to sell your service? I think that's the single biggest reason people fail is they don't have that part of their business really nailed down."