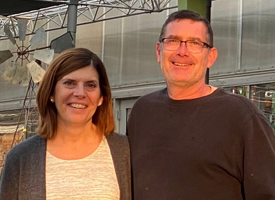 Jeff & Lori Otto - October 2020 Entrepreneurs of the Month
Jeff and Lori are entrepreneurs who know the importance of resilience and building a strong team. Otto's Oasis is a destination shopping experience with four pillars: garden center, retail and gift shop, floral, and landscaping. Jeff and Lori founded Otto's Oasis in 2007 when they purchased the business from the previous owner. Jeff had previously worked at the business before striking out on his own, living and working in Illinois for several years. When the opportunity arose to purchase the business, Jeff and Lori returned to Charles City. Jeff and Lori have grown Otto's Oasis through hard work and perseverance – turning each setback into a pivot, learning from their experiences, and putting those lessons into action. Jeff and Lori have also assembled a team of experts to call upon. Lori says, "As a business owner, you don't have to do it alone. It was hard to let go of some of that work at first, but we're stronger for it."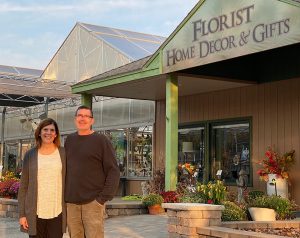 In 2012, after several years of steady growth in Charles City, Jeff and Lori opened a second retail and floral location in downtown Mason City. After six years of operation, they made the difficult decision to pull back, close the Mason City store, and re-envision their business's goals. "The excitement of starting a new location kept us going for a while, but it was a wise decision to get out and re-examine what we wanted and what we were doing," Lori said. Small business owners are familiar with the advice to keep growing, keep expanding, keep looking for the next step – and when Jeff and Lori took a step back, they discovered that the expansion to a second location wasn't the right fit.
On the advice of their bank, First Security of Charles City, Jeff and Lori connected with Brook Boehmler, Regional Director of the North Iowa Area SBDC, to evaluate their next move. "First Security has been really good to work with," Lori says. "It's our hometown bank and they want us to succeed. In a bigger city, I'm not sure we would have gotten the same support from a bank."
Jeff and Lori worked with Brook Boehmler to see the whole picture of the business's strengths, pain points, and next steps. "Brook's biggest advice was to use the expert resources we already had," Lori notes. "We were working with Eric Levenhagen of ProWise Tax & Accounting and not taking advantage of everything he could do for us." Eric helped Jeff and Lori overhaul their financials and cash flow, tighten up the accounting with a real-time system, and establish regular monthly meetings. "We always had a good working relationship with Eric. It was still hard sometimes to take advice, but we did it. And once we got through the hard times, it's now a routine," Lori says.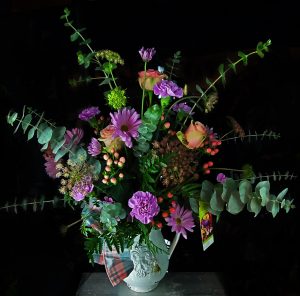 "Accounting isn't sexy, but the results are," Eric says. "If you have a handle on your cash flow, your key performance indicators, if you're ready with a foundation of financial literacy, you're better equipped to weather the hard times." Eric is one of a handful of accountants in North Iowa who provides this kind of comprehensive financial consulting for small business owners. "All of the big corporations have a huge team of experts on the payroll. They're all on the same page, all working together to benefit the corporation. My goal is to bring that kind of help and put it in the back pocket of local business owners."
Not every business can successfully pivot after a setback, but Otto's Oasis has. Jeff and Lori have re-focused to capitalize on their strengths. Jeff's reputation as a landscaper continues to generate high-demand for their services. Lori had noticed that landscaping and garden center customers often didn't know as much about their retail and gift shop, so she started amplifying their digital marketing through social media. Social media buzz generated immediate results, and led to a number of partnerships with local influencers and small business owners. The Otto's Oasis greenhouse began hosting events like a Valentine's Day dinner and a local boutique's runway show. Jeff and Lori have also continued to invest in their talented employees, many of whom they've been working with for years. Their floral designers create beautiful work and are encouraged to keep learning and growing, taking classes and giving classes on floral arranging. Jeff likes to say, "We have roots here." The local connections and partnerships have helped shape Otto's Oasis continued growth and success.
What's next for Otto's Oasis? Their signature events are still on for this fall – the Home for the Holidays Open House on November 7-8 and the Poinsettia Open House on November 27, 28, and 29. But the COVID-19 pandemic has affected Otto's Oasis, as it has everyone. When the gift shop had to close due to statewide public health mandates, Lori was inspired to start working on an online store and utilize today's technology in order to be ready for the next challenge. As experienced entrepreneurs, Jeff and Lori know another challenge will appear – and they'll be ready to face it.