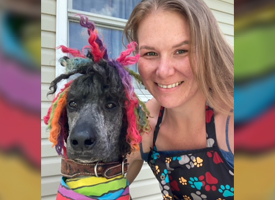 Amanda Slinger - August 2022 Entrepreneur of the Month
The NIACC John Pappajohn Entrepreneurial Center and North Iowa Area SBDC are proud to recognize Amanda Slinger of Ruff Cuts Pet Grooming in Nora Springs, IA as the July 2022 Entrepreneur of the Month.
In 2018, Amanda Slinger opened Ruff Cuts Pet Grooming, a full-service grooming business located in Nora Springs. Amanda's entrepreneurial journey, like that of many business owners, took a unique path. Amanda worked for several years as a funeral director, and then at MercyOne North Iowa, before going into pet care. "This is a happier business," she said. "And I always kinda wanted to own my business." After several years of grooming dogs professionally, Amanda decided to strike out on her own. Amanda could see there was a room in the market for more dog groomers. The popularity of certain dog breeds which require regular grooming was only growing. "Anything that has a 'doodle' in the name needs to be groomed," she explained.
Before opening Ruff Cuts, Amanda did her research by connecting with other dog groomers and business owners in peer groups. Amanda also enrolled in Launch & Grow at the NIACC Pappajohn Center & SBDC. Launch & Grow (now Venture School) was an 8-week entrepreneurial training program focused on customer discovery and practical learning. "It was really great to have other people there to bounce ideas off of, and I learned things that I hadn't thought of even though I had taken business courses before," Amanda said.
When Amanda took the leap into starting her own business, she knew she had a good grasp of her market and business plan – but the first steps always seem the most daunting. "I wanted to do it without a lot of financing so I basically started on a shoestring budget," Amanda explained. She found a building that had seen better days and was in dire need of renovation, but the low upfront cost gave her room to buy in, fix it up, and get started. "There was a moment when I asked myself, What did I do? But it came together after a lot of hard work and it was a positive experience in the end." Now Ruff Cuts Pet Grooming is a bustling, thriving enterprise with a waiting list of customers.
Amanda has a few words of advice for new entrepreneurs: "If you're only capable of starting small, just stick with it. You can start small, as long as you start."