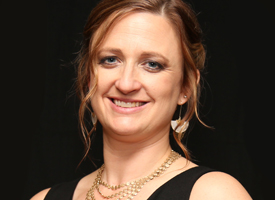 Katie Wold - December 2019 Entrepreneur of the Month
Three on the Tree is a cozy coffee shop in downtown Mason City, opened by risk-taking entrepreneur Katie Wold under the umbrella of her creative retail space Market 124. Over the last 13 years, her vision has evolved and grown to encompass a successful paint-your-own-pottery studio (Turtle Creek Pottery), coffee shop (Three on the Tree), and retail location (Market 124) under the same roof in a historic building in downtown Mason City. Katie is an entrepreneur who is dedicated to bringing the heart of our communities back downtown. Her focus is on helping local small business owners and creators, creating new opportunities in downtown Mason City, and building a space for North Iowans to come together.
The combined three businesses are an example of how young entrepreneurs are creatively revitalizing the traditional retail model. Katie has developed an innovative business model using three interlocking businesses that fulfill a very specific mission: support artists and local producers by providing a permanent space to sell their products, support local small businesses by providing rental and communal space, and create experiential gathering spaces in the heart of downtown Mason City. The unique synergy of Three on the Tree, Turtle Creek Pottery, and Market 124 has been evolving since 2006. Katie is an artist and her journey to entrepreneurship was inspired by the problem that many artists face: the difficulty of selling your creations. Many venues for artists are annual events or one-time occasions, and long-term locations for creators are few and far between. Katie saw that there was a need and decided she was the one to fix it.
In 2012, Katie came across an empty historic brick building in Mason City and fell in love with it. The building was built ca.1912 and originally housed Hart Motors, a car dealership with showrooms on the second floor and basement level. The spacious building required extensive renovation, but Katie could envision its future. She said, "It was important for me to be downtown. The center of the community needs to be the heart of the community, something that's lacking in modern life. We've been able to be a part of the progression of downtown as it comes back to being the heart of the community. Restoring our historic buildings is a part of that process."
Market 124 opened in Mason City in May 2012. The concept of many vendors under one roof allows small businesses in North Iowa to get into the Mason City retail market without all the overhead costs. Several of Mason City's small businesses got their start selling in Market 124; Otto's Oasis and Grandma Sugar's Cupcakes are both beloved North Iowa businesses who began in Market 124, established a customer base, grew, and eventually moved on and out to their own locations. Supporting other local entrepreneurs is a feature of Katie's business plan, not just a side effect. Extensive renovations on the second floor have created eight rental spaces for small businesses and solo entrepreneurs to build their own endeavors. Market 124 also incorporated Turtle Creek Pottery, a paint your own pottery studio nestled into a corner of the building.
Turtle Creek Pottery has been operating side-by-side with Market 124 since the beginning and in 2018 Katie seized an opportunity to further evolve the business. She purchased the building next door and began converting it into a new, spacious Turtle Creek Pottery location. As an artist, the pottery business has always been a vital part of Katie's business plan. "The old model of retail doesn't work anymore," Katie explained. "The retail is important, but the experience of doing something with your friends or family, or even just for yourself, is therapeutic. We all need that creative time." Turtle Creek Pottery has been operating side-by-side with Market 124 since the beginning. In 2019, Turtle Creek moved to its new location next door – a private space with large light-filled windows that manages to feel spacious yet cozy, the perfect atmosphere for creative time with friends and family.
With Turtle Creek Pottery moving to a new location and an empty space in Market 124 to fill, Katie opened Three on the Tree, a cozy coffee shop with a car theme in homage to the building's original purpose. Three on the Tree is a continuation of the popular Mason City independently owned coffee shop, Beanzy's. Katie had thought for years that adding a coffee shop would be a great fit for Market 124, but she was reluctant to compete against Mason City's two existing independently owned coffee shops, both of which were located downtown. Then, the owners of Beanzy's approached her – they were ready to be bought out and hoped Katie was interested in the opportunity. Three on the Tree opened in September 2019. One of the most important parts of being a successful entrepreneur is being ready to take advantage of an opportunity when it arises. Katie's flexibility, open mind, and growth mindset have allowed her to be a versatile entrepreneur, ready and able to seize opportunity, and continually adjust her business plan for success.
Katie Wold is a classic entrepreneur who takes risks in her determination to create something new, valuable, and successful for the community. Katie has shown herself to be a nimble innovator, constantly experimenting, and someone who never misses an opportunity to learn. When the GoldmanSachs 10,000 Small Businesses program announced it would be coming to Iowa, Katie immediately applied, was accepted into the second cohort, and graduated in summer 2019. She used the program and its comprehensive mentorship aspects to work out the fine details of adding Three on the Tree to her business.
Committed to supporting fellow artists/creators and entrepreneurs. Katie is active in the community and is always looking for ways to give back. She serves on several boards, including the NIACC John Pappajohn Entrepreneurial Center advisory board, the Mason City Chamber of Commerce board, and the Main Street Mason City board (serving three years as vice president). She has also served as a pitch competition judge for the Youth Entrepreneurial Academy (a summer entrepreneurship camp run by the NIACC Pappajohn Center), and is committed to serving as a business mentor through the North Iowa Mentor Network. Katie was recognized as Young Entrepreneur of the Year at the 2019 Pappajohn Entrepreneur Gala. Katie also takes a practical approach to supporting the local entrepreneurial ecosystem; the second floor of Market 124 has been renovated to create eight commercial studios. Katie rents these out to small business who are in the beginning stages of growth. The rents are priced to be approachable for businesses still trying to get their foot in the door. Wi-fi and utilities are included, as is a community space. "It's a variation on the co-working concept," Katie explains. "We usually have complementary businesses renting that space, so that drives interactions with the other businesses through their proximity."