High Tech Hive – Community Build
September 18, 2021 @ 1:00 pm

-

2:00 pm

Free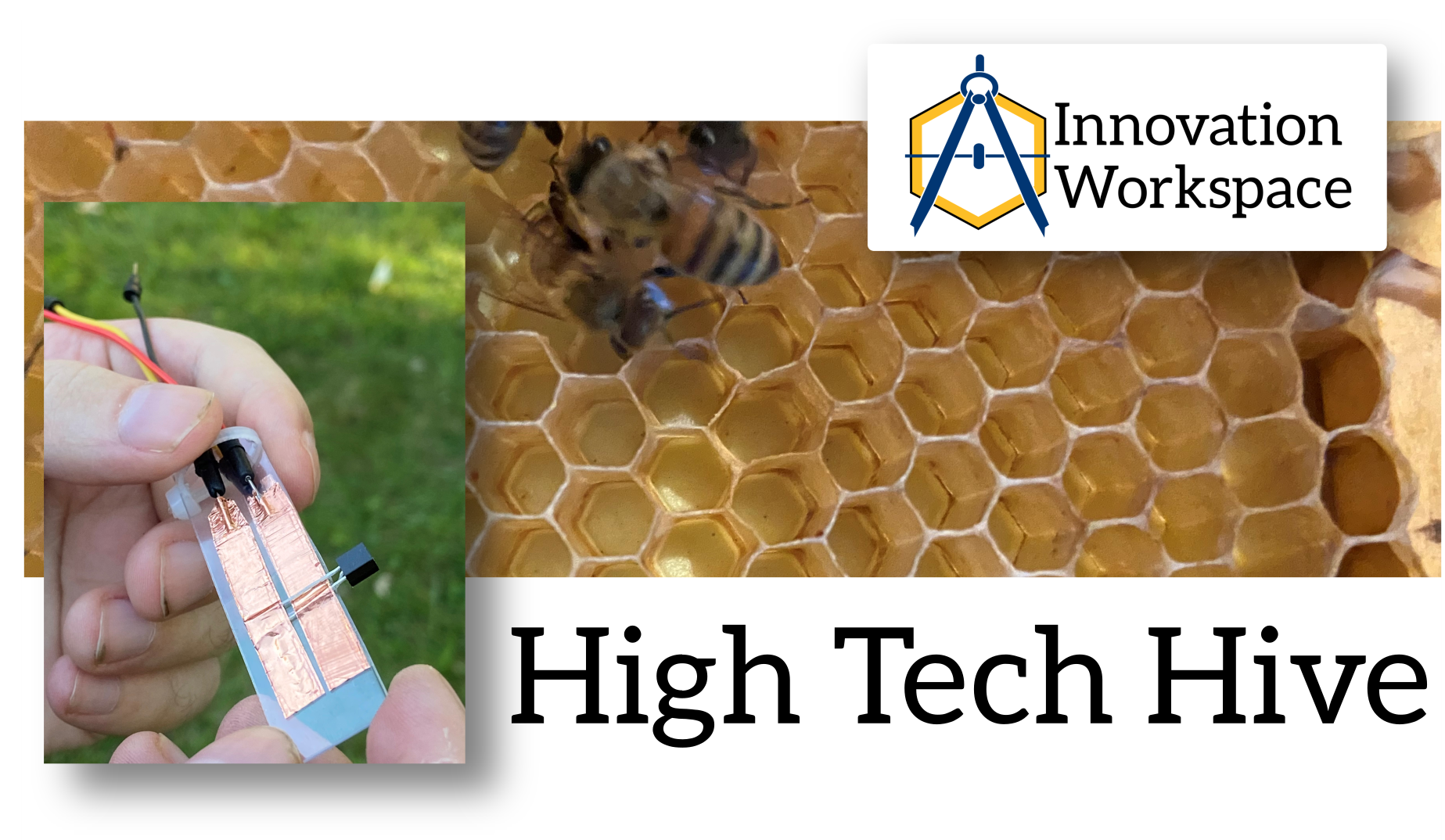 High Tech Hive – Community Build
The NIACC Innovation Workspace is kicking off our first Community Build, a casual weekly event during which everyone is invited to visit the workspace and contribute to the group's build project. Whether you consider yourself an artist, an engineer, or you're simply intrigued, we want you to participate! The Innovation Workspace will provide a theme, a real-world scenario to kickstart your thinking, but you will decide on what to create as part of the community. This season's theme is High Tech Hive where you'll explore what it takes to be a beekeeper, what challenges beekeepers face in North Iowa, and how you might create a solution to make their life better!
How Will It Work?
The exact project (or projects, if we're feeling ambitious) is going to be decided upon by the whole group. There's no blueprint or instruction manual you will be following -- you'll be creating something totally new! But, we will provide a bit of a framework to help you figure out how to make these decisions.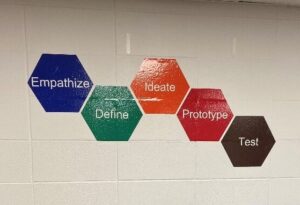 We'll be following the Design Thinking process, developed by Stanford's Design School (d-school).  This simple yet powerful guide will help you work through creating something new from the ground up.  The process is made of five stages, Empathize, Define, Ideate, Prototype, and Test.  Each stage builds on the last, but this process is iterative; that is to say, you will do each stage multiple times as you test your ideas, learn something, and then change the design to make it better!
Empathize? …with bees?
Yes! Well… with the beekeepers.  The first step of the design thinking process is Empathize; this basically means that you're going to try to learn everything you can about who you are solving the problem for.  You do your best to get into the head of that person and ask questions like, "What does this person do?" "What do they feel?" "What do they think?" and "What problems does this person face that I might be able to solve?" In their excitement, people often skip this step or think they already know the answers, but if you want to create something that others will actually use, you must make sure you keep the user in mind while you are creating.
Kickoff Field Day!
We'll be kicking off our community build this season with a field day, Saturday September 18th at 1pm, thanks to Vonderohe Bees and our friends at the North Iowa Beekeeper's Club.  We will be visiting an apiary (a place where bees are kept), giving people a chance to ask questions and, if they want to, help open a hive.
To join us, make sure to register to let us know you're coming!
Register for the High Tech Hive
If you are not able to make it to our field day and still want to participate in the build, not to worry, that's what a team is for! We'll fill you in on what you missed as we enter the next stage of Design Thinking!
Who Can Attend?
Anyone who wants to participate is more than welcome to join us!  The NIACC Innovation Workspace strongly believes in cross-disciplinary and cross-generational collaboration and learning, so parents and grandparents – bring your kids, kids – bring your parents, bring your spouse or significant other, and business owners – bring (or send) your employees! The community build is free and should be a lot of fun!
Free?
Yes!  Attendance for the field day and the rest of the community build is free; we want to make it possible for everyone to participate.  That said, with a build project like this we will need to get supplies: wood, acrylic, electronic components, etc. So, keep in mind that we may ask people to volunteer to chip in as we start to figure out what we will need.
Safety & Attire
While honeybees raised by beekeepers have been bred to be very calm around people, they are still bees and will defend their homes if they become agitated. Plan to wear a good, thick pair of jeans, close-toed shoes that close tight (like boots), and a t-shirt or sweatshirt you'll be comfortable in and are okay getting dirty. If you are allergic to insect bites or stings and have an Epi-Pen be sure to bring it along.
We'll be providing bee suits for those who decide to participate in opening the hive but if you aren't comfortable with that go ahead and keep your distance. We want to keep this as fun and relaxed experience as we can for everyone.
…why bees?
Over the summer, campers in the Verizon Innovative Learning STEM Camp for Middle School Girls came in one day and said that there were a ton of bees or wasps or something in a tree outside. When we went to check it out, we found a swarm of European Honeybees had paused in the tree on their way to find a new home. The campers were concerned, but definitely didn't want to see them get sprayed, so we decided to catch them instead. We made a phone call to some folks who had an empty hive sitting in their garage and within half an hour we had a brood box ready for some bees!
The campers got to take a break from class, where they just happened to be learning about swarm robotics, and they got to watch as we helped roughly 30,000 bees find a new home. The campers asked a ton of questions and got a chance to learn a little bee biology during this whole process; the campers kept asking for updates on how the bees were doing for the rest of camp.
We decided to leverage that exciting event, using it as inspiration for our first community build to get anyone who is interested in learning about how science, technology, and innovation go hand in hand (in hand)!
NIACC's Innovation Workspace is a brand-new space on campus designed to connect people from all walks of life with technology that empowers their creativity.  Whether you are a student, parent, faculty member, hobbyist, entrepreneur, business owner or employee, or simply a member of the community who's curious about tech, the Innovation Workspace is here for you!
Come explore 3D printers, laser cutters, CNC mills, vinyl cutters, electronics, and more at the Innovation Workspace!  We are just getting started and are looking forward to hearing from you to inform how we grow and change.  We can't wait to see what you build next!