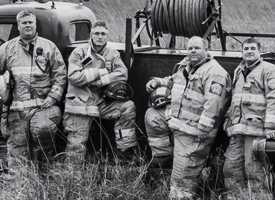 Jim Boehmer, Ross Hanson, Nathan Ostrander, and Jason Peterson - April 2018 Entrepreneurs of the Month
The NIACC Pappajohn Center and North Iowa Area SBDC are proud to recognize Jim Boehmer, Ross Hanson, Nathan Ostrander, and Jason Peterson of the 5 Alarm Brewing Company as the Pappajohn Center Entrepreneurs of the Month for April 2018.
Craft beer is a rapidly expanding industry across the nation, and beer enthusiasts are passionate about supporting their local and regional breweries. The growing interest in Iowa craft beer has created an opportunity for community taprooms. Jim Boehmer joined forces with fellow firefighters Ross Hanson, Nathan Ostrander, and Jason Peterson to open the 5 Alarm Brewing Company and bring a microbrewery and taproom to downtown Lake Mills, IA. The 5 Alarm Brewing Company opened in December 2017.
Jim worked with Brook Boehmler of the North Iowa Area SBDC and Pappajohn Center to refine their business plan in preparation for seeking funding, acquiring a building, and opening. Boehmer and his three co-owners purchased a building in downtown Lake Mills and extensively rehabbed it. Their location in the established business district is part of the ongoing work to create an entertainment district and revitalize Lake Mills. 5 Alarm Brewing's refurbished property in the heart of Lake Mills creates another downtown anchor to draw in locals and tourists alike. 5 Alarm Brewing's location is another connection to firefighting and the history of Lake Mills. The original building is the site of The Lake Mills Fire – a Code 3 fire (aka a 5 Alarm fire) that burned down the original building. The building was rebuilt in 1961 and served as a furniture store and then a clothing store for several years.
5 Alarm Brewing supports fellow local Iowa businesses and focuses on maintaining strong community partnerships. Like many craft breweries, the 5 Alarm Brewing taproom doesn't serve food, but encourages customers to bring in food from downtown restaurants or have it delivered. 5 Alarm Brewing also partners with other local businesses for events and promotions, and supports local musicians and artists. 5 Alarm Brewing is a community-focused small business, passionate about creating a good product, creating local jobs, and creating a stronger hometown economy.
5 Alarm Brewing has worked closely with community partners and local economic development offices including the Lake Mills Chamber Development Corporation and Winn-Worth Betco (Winnebago-Worth Counties Betterment Council).
Teresa Nicholson, Executive Director of Winn-Worth Betco, said "Five Alarm Brewing Company is a new company in our region in a growing industry of craft brewing comprised of a group of partners with different expertise. When these partners decided to start this business, they worked with their local economic development offices including the Lake Mills Chamber Development Corporation and Winn-Worth Betco, and they also worked with the Pappajohn Center and SBDC to make sure they had as much information and guidance as possible to see this company go from their vision to their reality. The brewing has been very busy since opening in late 2017 and shows no sign of slowing down, but rather growing and becoming better in 2018. We are excited to see what the future holds for them and are so glad they involved all of our entities to assist them in getting their new business off the ground!"
Cassie Johnson, Executive Director of the Lake Mills Chamber Development Corp., also commended 5 Alarm Brewing, stating "5 Alarm Brewing Co. is a great example of how a group of people with a variety of specialties can come together to pursue a dream and build unique businesses in communities of all sizes. The Pappajohn Center and SBDC services filled in gaps when it came to business planning, and we are excited to see what these tools and resources help them to achieve! We are ecstatic to have them in downtown Lake Mills inspiring entrepreneurs to build careers of their own!"