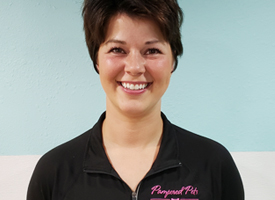 Cody Purvis - March 2018 Entrepreneur of the Month
The NIACC Pappajohn Center and North Iowa Area SBDC are proud to recognize Cody Purvis of Pampered Pets as the Pappajohn Center Entrepreneur of the Month for March 2018. The Pampered Pets Retreat and Spa specializes in dog and cat grooming and boarding. Cody has worked with the NIACC Pappajohn Center and North Iowa SBDC since 2016. Cody also worked with community partners Jill Kramer, Executive Director of the Hancock County Economic Development Corporation, and Ryan Eekhoff, of First Citizen's Bank.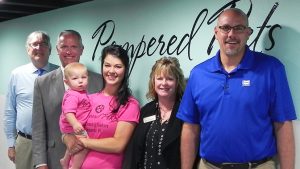 Cody is a great example of an entrepreneur turning a passion into a profession. Cody's love for animals has been a constant throughout her entire life. After graduating from Kirkwood Community College with an Associate's degree in Veterinary Assisting (and a minor in Pet Grooming), Cody worked full-time as a manager and groomer at a doggy daycare. Later, when working at Clarion Clinic, Cody began grooming dogs out of her home on evenings and weekends. As her reputation for grew and her clients increased, she found herself cutting back her hours at the clinic in order to focus on her grooming customers. When demand continued to increase, Cody quit the clinic quit altogether, making the leap to full-time self-employment.
Cody started Pampered Pets as a full-time profession by working out of her home. Finally, demand reached the point where Cody realized it was time for her home-based business to take the next step. After three years of professionally grooming dogs and cats at home, Pampered Pets moved into a new custom-built building in November of 2017. The new building allowed Cody to expand her services to offer dog boarding as well as grooming. The boarding facility offers supervised socialization and play for its dog guests, as well as 24/7 monitoring. Cody's journey from part-time home groomer to business-owner and employer is an inspiration to the entrepreneurs-in-training who dream of turning their own passion into a thriving business.