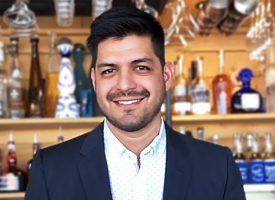 Catarino Martinez - March 2023 Entrepreneur of the Month
The NIACC John Pappajohn Entrepreneurial Center and North Iowa Area SBDC are proud to announce Catarino Martinez of Avion Azul in Clear Lake, IA as the March 2023 Entrepreneur of the Month.
Avion Azul opened in December 2021 and is located at the Mason City Municipal Airport where it provides customers with a unique view and a unique restaurant experience. Co-founder and owner Catarino Martinez comes from a family with a long history in the restaurant business. "My dad owned a restaurant with his brothers," Catarino says. "I worked there from a young age and learned the business from the ground up." Catarino's brother is a chef and when he wanted to open his own restaurant in North Iowa, he came to Catarino. "I like the challenge of opening up something new," Catarino says, "It's exciting. You learn a lot every time and this was a challenge I was looking forward to."
When it came to striking out on their own, Catarino wasn't interested in opening just another Mexican restaurant – he wanted to create a unique dining experience and came up with a name, concept, and design that he felt had the potential to be something new and exciting for North Iowa. Avion Azul has a modern look and an elevated ambience. They serve new takes on classic dishes using only fresh ingredients, and specialize in craft cocktails created in-house to be both beautiful and delicious. "We're not scared to innovate and to learn what the customers want," Catarino says. "What differentiates Avion Azul is the experience, like the table-side guacamole, the interaction with our servers, the craft cocktails and margarita flights." To date, the community response to Avion Azul has been overwhelmingly positive. "Our customers love coming out to the airport with their friends and family for the experience, our friendly staff who always go above and beyond, and the quality food – we use fresh ingredients and it's noticeable from the reviews that customers appreciate that."
Catarino refined his business plan for Avion Azul at the Mason City cohort of the University of Iowa Venture School, a 7-week entrepreneurial training program hosted at the NIACC Pappajohn Center & SBDC. "My experience at Venture School was amazing," he says. "I was a little wary at first, but I'm glad I did it. The way that they work with you to develop your business model […] I think that opened my eyes to many things and changed my concept of what my original idea was. I think ultimately that's why we're successful now." One of the key lessons Catarino has put into practice is the importance of knowing your numbers when running a profitable service-based business. "The numbers are very important," Catarino says. "Your margins and your goals. You have to properly train your team, communicate your visions and goals, and trust them to help you achieve those."
Catarino's plans for the future of Avion Azul include a vision of expanding to additional locations in new cities – and in the near future, going mobile with a food truck. "It can be very profitable when you already have a restaurant – this would be using products that we already have to provide it to consumers in the busy areas where they already are," Catarino says. "If they can't come to us, this allows us to come to them." North Iowa's food truck scene has been expanding and experiencing increased demand, especially in the busy summer season. Catarino hopes to expand Avion Azul's capacity for catering and events along with it.
Catarino has a few words of advice for new entrepreneurs. "The best advice I've received is don't be afraid to try new things," he says. "Ask questions, do the research, take advice. New entrepreneurs should use the Pappajohn Center & SBDC because they ask the questions that entrepreneurs are afraid to ask themselves. If you're having trouble with a location, a product, a service, they're there to help you ultimately become successful. They'll guide you to where you need to be."