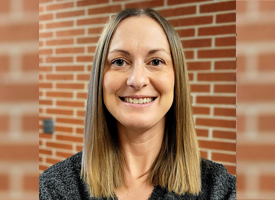 Beth & Brent DeGroote - February 2023 Entrepreneurs of the Month
The NIACC John Pappajohn Entrepreneurial Center and North Iowa Area SBDC are proud to Beth and Brent DeGroote of Corwith Farm Service in Corwith, IA and Simply Nourished in Clear Lake, IA as the February 2023 Entrepreneurs of the Month.
In 2018, Beth and Brent DeGroote bought Corwith Farm Service. Corwith Farm Service is an independently owned country store that fills a vital role in the community. Without Corwith Farm Service, local residents would have to drive 20 to 30 minutes away to purchase food of any type. Rural food deserts are a concern for small towns; businesses like Corwith Farm Service keep those towns going. "I always say we're a little bit of everything and that's what we try to do. We sell it all," said Beth. Corwith Farm Service sells everything from groceries and animal feed to hot lunches. At their full-service meat counter, they grind their own meat and slice their own steaks. The former owner of the business had approached Brent and Beth with an interest in selling his business. "And that's how it started," said Beth. "He took us out to dinner and we talked business."
The town of Corwith has a motto: A town with heart. Corwith Farm Service is a business with heart. As a family owned business, Beth and her husband Brent work closely together and even get the kids involved. Beth said, "Running a business together is a great opportunity because not only can Brent and I work together, but our kids can work there with us and learn all sorts of useful skills for life, from customer service to counting money." At the age of 17, Beth and Brent's eldest son also designed and painted a mural for the store that includes handprints of customers. "They loved it," Beth said. "It makes them a part of the business"
Beth and Brent displayed their entrepreneurial spirit during the uncertainties and restrictions of COVID in 2020." Corwith Farm Services also began offering curbside pickup as well as an in-town delivery service for those who were unable or felt uncomfortable leaving home. Beth and Brent were able to pivot and adapt, and actually increased their clientele. "People wanted to avoid crowds and didn't want to go very far from home during COVID. We just said what can we do? How can we adjust?" said Beth. By adapting to what their customers needed, they increased their customer base. "People who didn't shop with us normally, just because they assumed we didn't have very much, found us during COVID and now use us more often because they know our prices are fair and comparable, we have the variety, and we're good about taking customer input for products."
In January 2022, Beth took on a new opportunity – purchasing the specialty grocery store Simply Nourished in Clear Lake. Beth partnered with Mindy Duff, owner of Nutritional Balance and a certified holistic health and nutrition coach, to ensure this unique store would stay open and continue to serve its community. Simply Nourished is a valuable resource for North Iowans with food allergies or dietary restrictions. People who struggle with Celiac disease often have a difficult time finding allergen-free products that are nutritionally balanced, low or non-preservative, and delicious. Simply Nourished carries fewer brands than other stores, but each is carefully selected for its quality.
Beth said, "I didn't know what to expect. I think this is the first time with a job where I felt like a fish out of water. I was unfamiliar with the products. I'm not as familiar with the town and the people. I cut my hours at Corwith Farm Services for three or four months so I could work at Simply Nourished every day and get to know the products and our customer base. We have amazing customers at Simply Nourished, they're really passionate and Clear Lake is just an amazing town."
Beth has some advice for people who are considering business ownership. "You can take any business and make it your own," she said. "Take your time. Get a feel for what people want and what you enjoy doing. You'll see the opportunities there and then it comes together."