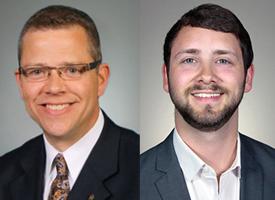 Jim Coloff and Weston Lohry - May 2019 Entrepreneurs of the Month
The NIACC John Pappajohn Entrepreneurial Center and the North Iowa Area SBDC are proud to announce Jim Coloff and Weston Lohry of Coloff Digital as the May 2019 Entrepreneurs of the Month.
Coloff Digital is located in Forest City and provides a wide range of brand strategy, website, graphic design, video, social media, and digital marketing solutions. The company started in 2013 as Coloff Interactive, a division of Coloff Media which owns and operates 12 radio stations across North Iowa. Jim Coloff founded the division after hearing from his radio clients that they needed website and digital marketing resources.
In November 2014, Jim advertised for a web developer position. Weston Lohry applied and at the interview they immediately hit it off, discovering they had similar viewpoints on business, marketing, and serving clients. "The digital landscape changes so fast that it's our job to stay ahead of it and offer the products and solutions to our clients that will get them the best results and help them grow our business," Weston said. "That's always been both Jim's and my passion: helping entrepreneurs grow their companies, help them provide for their employees, their families, their communities."  The interview evolved into an agreement: Coloff Digital would rebrand and break off into its own LLC with Weston as managing partner and Jim helping along the way while continuing to grow his radio station. In January 2015, Coloff Digital had a new logo, new product offerings, a new streamlined process, and was ready to start serving its clientele.
Coloff Digital has evolved over the last four years. It started with Jim, Weston, and a single part-time employee who handled project management and digital ads. Now Coloff Digital has five full-time employees and two part-time employees, with a business development intern joining the team soon and a second internship opportunity available. Weston's role has evolved into looking at the big picture for Coloff Digital and how it can continue to sustainably grow and employ talented people in North Iowa. As part of this big picture thinking, Weston was accepted into the inaugural Iowa cohort of Goldman Sachs 10,000 Small Businesses, a competitive entrepreneurial training program that focuses on practical business skills. "Sometimes you just get a feeling that this is the right thing for you," said Weston. "I felt that way when I met Jim, and I felt that way when I heard about 10,000 Small Businesses." The 10,000 Small Businesses program is an opportunity for small business owners to learn from the nation's top entrepreneurial training experts, connect with fellow entrepreneurs, and take their business to the next level.
Weston worked with the North Iowa SBDC and Pappajohn Center to focus on Coloff Digital's sustainable growth. "I met Brook Boehmler [North Iowa SBDC Regional Director] through the Forest City Economic Development Corporation. The Pappajohn SBDC Center is actually how we heard about 10,000 Small Businesses – I never would have heard about it otherwise, and it was just a phenomenal experience."
With Coloff Digital, Jim and Weston have built a successful venture that fulfills their passion for providing products and services that are affordable for small to medium businesses, but produce big business results. Jim and Weston are also committed to creating opportunities for North Iowans. "I want to build something special and provide opportunities for local creative, hard-working people," Weston says. "I want people to know that there's an option right here at home for talented local individuals who don't want to have to live in a big city to be successful in a creative and technical field – where they can do good work, grow, and move up in the company."