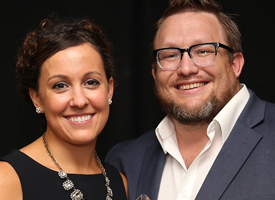 Jessica and Derek Balsley - June 2019 Entrepreneurs of the Month
The Art of Education University, founded by Jessica and Derek Balsley in 2011, is a local Iowa success story of building a global company in a rural community. Osage, Iowa is a small town in North Iowa with a population of around 3,600. It's also the hometown of The Art of Education University, the only non-religious graduate university to be established in Iowa in the last 50 years. The Art of Education University is a lifelong university focusing on one very specific student – art teachers. As of 2019, The Art of Education University offers a Master of Arts in Art Education degree and is a fully accredited institution of higher learning, serving thousands of students around the world.
The idea came to Jessica when she was working as an art teacher. It was very difficult to find and access resources and professional development to continue her education and grow her teaching skills. Most courses were geographically limited. What was needed was a network of learning resources and courses that an art teacher could access from anywhere. Derek suggested that they could fix the problem themselves. As with any startup, Jessica and Derek put in a lot of hard work to get their idea off the ground. They knew that building a library of strong, useful, comprehensive content was the key. "It was just the two of us, working on content every weekend," Jessica said. "It was hard work but it was exciting."
The Art of Education University soon created a buzz among art teachers across the United States. The positive word-of-mouth advertising was invaluable to their growth. "We built our audience by simply providing value," Derek said. "We started with free content and articles. We wanted to help new art teachers be confident and grow their strengths. There are all these different layers of learning for teachers. We want to help teachers stay in teaching." Art teachers often work on their own, with little to no local resources for professional development, networking, and sharing ideas with other teacher. The Art of Education University's online model means that the best art teachers from around the country are their instructors, and any art teacher around the world can take their courses.
In early 2019, The Art of Education University announced they had achieved full accreditation as an online university, one of only two new universities to open in Iowa in the last nine years. The accreditation process took three years of diligent Jessica and Derek emphasize the importance of getting started and taking their entrepreneurial journey one step at a time. "We saw a need and knew we could fill it. If we knew exactly what to do [to get to this point], we'd never have gotten started," Jessica said.
Derek's advice for new entrepreneurs is to take advantage of the organizations and resources out there, and find a mentor. "Find someone a few years ahead of you in the entrepreneurial journey, who knows what you're going through," he said. "Mentors are important but you also have to put the work in yourself, even with informal resources. You have to be a self-starter for finding new ideas. Learn it and implement it."
Jessica and Derek are proud to have started their business in Osage. They grew up in Osage and were high school sweethearts before going to college, starting their careers, and getting married – and they always knew they wanted to return to their hometown with its supportive community and small town values. "Starting an online business allowed that to happen," Jessica says. "We're able to achieve the work-life balance here that we were seeking." The Balsleys have also been able to create jobs in Osage and introduce their remote workers to the attractions of Iowa. The Art of Education University employs individuals across the United States who periodically converge on Osage for staff trainings and meetings. Jessica says, "When team members from around the country visit AOEU HQ in Osage, they quickly fall in love with our small town hospitality – they often say they didn't realize how beautiful Iowa really is!"
Jessica and Derek have built an innovative company that helps teachers around the world, while also proving that, yes, you can build and grow a successful global business in rural Iowa.