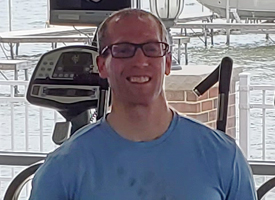 Jason Laube - May 2022 Entrepreneur of the Month
The NIACC John Pappajohn Entrepreneurial Center and North Iowa Area SBDC are proud to recognize Jason Laube of Cutting Edge Fitness in Clear Lake, IA as the May 2022 Entrepreneur of the Month.
Jason's entrepreneurial journey took him from coaching and training around the United States and in NFL Europe, back to the Midwest to grow his family and start a business. After working as a volunteer coach for the Kansas City Chiefs, with a summer internship position and a few games after college, Jason decided the work-life balance of professional football coaching wasn't the right fit for him. Jason worked as the Assistant Strength Coach at the University of Minnesota, then turned to private sports performance training. Jason moved back to Iowa with an eye toward settling in Clear Lake permanently and, after working for Cutting Edge Fitness for three years, he bought the business in 2010. Jason worked with the NIACC Pappajohn Center, then under the leadership of Director Ted Bair, to make sure his business plan had a good foundation. "Ted and the Pappajohn Center gave [my wife and I] a sense of belief," Jason says. "We were young and it was a huge commitment. They helped us understand financials and create a good business model. It helped us understand the vision [of the business] and what we could do."
In 2020 and 2021, Jason had to reimagine his business model and pivot in light of local and global circumstances. "It was quite the experience to go through," Jason says. The COVID-19 pandemic had shuttered the business for several months in 2020. Their facility, which they leased, sold in 2021 and they had 30 days to find a new place. And, looming on the horizon, was the new Clear Lake Wellness Center slated to open in 2022 – an 82,000 square foot facility that would be of great benefit to the community but would also cut into Jason's market share. When faced with external forces, a savvy entrepreneur adapts. Jason could see that evolving was the only way for Cutting Edge Fitness to continue moving forward. "What we needed to do with the business was refocus on our strengths," Jason said. "We couldn't compete in the same way, so we honed in on our focus which is definitely the training."
And that's exactly what Jason and his team did. Jason purchased a new, smaller facility: a state-of-the-art gym with a view, right on the shores of Clear Lake. Downsizing to less square footage cut down on overhead. Jason took on the challenge of less floor space for equipment and focused on clients looking for one-on-one training, targeted fitness classes, and an atmosphere of expertise and accountability. Cutting Edge Fitness serves clients from ages 6 to 86, of all skill levels. "Working with all ages and abilities makes you a better coach," says Jason. "And it's all about the relationships in this business; how you treat people and build relationships is what led the business to where it is today." When you walk into Cutting Edge Fitness, you're met by The Great Wall: a wall of photos celebrating the athletes Jason has worked with who have gone on to play college or professional sports. Jason also continues to work with college athletes at Waldorf University as the Director of Strength and Conditioning, where he is responsible for 60 coaches and approximately 480 athletes.
Jason has a few words of advice for other young entrepreneurs. "The biggest thing with any business out there," he says, "is to believe in yourself and believe in your business. Know your core values and have a plan. You're going to have highs and lows: live those lows and learn from them, knowing it'll make you a better business owner."