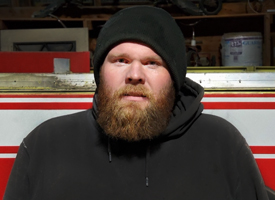 Nate Julseth - April 2022 Entrepreneur of the Month
The NIACC John Pappajohn Entrepreneurial Center and North Iowa Area SBDC are proud to recognize Nate Julseth of Nate's Powder Coating in Northwood, IA as the April 2022 Entrepreneur of the Month.
Nate Julseth began his entrepreneurial journey in 2006 building and customizing motorcycles. "I saw the trend coming," he says. "It was huge on the East and West coasts but not in the Midwest yet, and it just snowballed from there." Nate would blast and powdercoat pieces to create a customized look, and as the popularity continued to grow, and customers brought in more and bigger items for custom powdercoating, Nate took his next big step: buying a large mobile blaster. "It's hard to find a blaster that big, let alone one that travels," he explains. By investing in larger equipment, Nate discovered he could fill an underserved market niche and create new opportunities for the business. When a natural gas company saw the large mobile blaster parked in a yard, they stopped and inquired about media blasting natural gas pipes, leading to Nate's first big contract.
In 2013, Nate attended the Start Smart class at the NIACC Pappajohn Center & SBDC. His business was transitioning away from motorcycles and towards the larger contracts. Nate also took part in the Spring 2021 Venture School, winning First Place at the Venture School Launch Day Competition. In June 2021, Nate won $3,000 as Runner-Up at the 2021 University of Iowa's statewide Venture School competition, held during EntreFest a two-day entrepreneurial conference held in Cedar Rapids, IA. Nate credits Venture School as a big influence on his business's recent growth. During the Venture School process, Nate conducted an extensive amount of customer discovery which has shaped his business strategy. "Venture School opens your eyes," Nate said. "It makes you think about where your customer is and where your business could be."
Brook Boehmler, Regional Director of the North Iowa SBDC, says, "Nate is an inspiring guy. He has a vision for his business's future and the drive to achieve it. When you have a handle on your customers and your financials, you're able to take on any challenge that comes up."
Nate is an Iowa entrepreneur who is constantly evaluating and improving his business, and constantly innovating to find better, more efficient ways to serve his clients. Nate had a simple word of advice for fellow entrepreneurs. "Go to the Pappajohn Center & SBDC," he said. "You can't do it by yourself. I tried for many years but when I had too much on my plate and needed help, there they were."