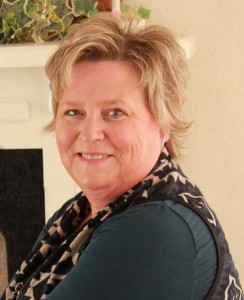 Dumont Insurance Agent Wins Statewide Woman Entrepreneur Award
Shelly Zimmerman, now owner and principal agent at Harrison-Thornburgh Insurance of Dumont in Butler County is the 2015 Iowa Small Business Development Centers' Deb Dalziel Woman Entrepreneur Achievement Award winner. This statewide award recognizes women who have significantly improved or changed their own personal situation, thus having an impact on others around them. Zimmerman will be honored at a State Capitol breakfast reception with state legislators and leaders on March 5.
Zimmerman completed the purchase of the independent insurance agency from her long-time employer in 2014. This business succession keeps a main street professional office in Dumont, sustaining client access and continuing a local tradition of professional service. She successfully expanded her clientele and hired additional staff.
Zimmerman, a long-time resident, is active in Dumont civic life. She had a great opportunity to buy the agency from her retiring employer.
Zimmerman's bank, First Security of Dumont, referred her to the NIACC John Pappajohn Entrepreneurial Center and its North Iowa Small Business Development Center (SBDC) to work through the buyout business plan and make sure the numbers would cash flow or work.
Zimmerman relates, "The North Iowa SBDC provided me with important business projections and solid financial data to reinforce my purchase decision. The assistance I received from Daniel Winegarden was invaluable in drafting the focused business plan needed to obtain the financing to purchase Harrison-Thornburgh Insurance. I'm grateful to have had a resource with such a high level of knowledge and expertise to use as a sounding board when making tough business decisions."
Right up front in planning Zimmerman identified her desire to help the community, "It's important to Dumont to keep professional services local and main street offices thriving." Shelly was committed to sustaining her business in her community and not just letting the business fade away or move away. She understands the importance to the local economy of sustaining key professional services.
Daniel Winegarden, NIACC Pappajohn Center's Director of Business Acceleration and an SBDC business coach shares, "Shelly is a joy to work with. Her experience as an insurance agent perfectly prepared her for the buyout plan. She crafted a win-win for the prior owner's retirement, her own advancement and the success of her community. She already knew the agency's clients and their needs. We worked to assemble a detailed month-by-month financial forecast based on the history of the agency. From that Shelly knew exactly what new business was necessary every year to make the purchase price and purchase loan work. It's rewarding to see a client's success and it means Dumont keeps a community leader as a new business owner."
State elected officials representing Dumont and Shelly Zimmerman note Zimmerman's award.
State Senator Amanda Ragan said, "I am very proud of Shelly Zimmerman for being selected to receive the Deb Dalziel Woman Entrepreneur Achievement Award. Her achievement as a businesswoman in rural Iowa is very significant and a tribute to her efforts to improve her community and the lives of its citizens."
Rep. Linda Upmeyer remarked, "Shelly is a perfect example of successful entrepreneurs in small, rural Iowa communities. She demonstrates why we need to ensure these business leaders have access to many opportunities. I look forward to following her continued success."
The NIACC John Pappajohn Entrepreneurial Center and its North Iowa Small Business Development Center offer business counseling services to current and prospective business owners. Services help area residents create new business start-ups, grow or reinvigorate existing business, and transfer or acquire businesses with planned successions. Shelly Zimmerman is a perfect example of a successful business succession.