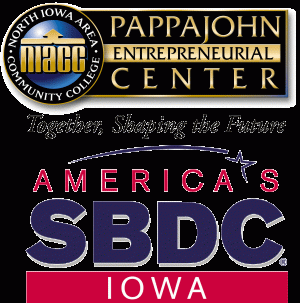 Corn is big business in Iowa, but high technology corn is becoming an even bigger business. Third generation seedman John, along with wife Shannon and brother Chris Latham seized an opportunity to begin supplying corn seed with multiple traits to farmers across the upper Midwest and formed Latham Hi-Tech Hybrids in 2004. With a motto of "brings world-class technology home," they have become one of Iowa's fastest growing family-owned seed companies. In April 2006, the Lathams turned to the SBDC of North Iowa for help accelerating and preparing financially for rapid growth.
SBDC Approach:
In Mason City, the SBDC is housed inside the John Pappajohn Entrepreneurial Center on the North Iowa Area Community College Campus. This setting offers huge opportunities for collaboration with other JPEC members, including the North Iowa Business Accelerator, Iowa Workforce Development, North Iowa Venture Capital Fund and Wellmark Community Venture Fund. By utilizing all the assets at its disposal, Ted Bair, the SBDC Director was able to help John, Shannon and Chris Latham refine all aspects of their business plan- marketing, financial and operations. He also critiqued and helped them prepare their presentation for the Venture Network of Iowa and submission of their business plan to the statewide Pappajohn Business Plan Competition contest.
Results from SBDC Assistance:
Successfully penetrating a five state region
Met sales plan for 2006; exceeding plan in 2007 (years run Sept to Sept) with continuing triple digit percentage increases.
Presented to the Venture Network of Iowa, drawing the interest of Venture Capitalists and Angel Investors
Placed 3rd out of 87 entrants statewide in the Pappajohn Business Plan Competition, winning a $10,000 prize
Awarded $100,000 in funding from the Wellmark Community Venture Fund
Accelerated hiring plan. On track to add at least 1 new sales pro-rep employee every other month in 2007 with ultimate goal of 45 employees by 2010 earning in excess of $75,000 annually.
Quote from Client:
"We faced the same problems every new company faces. Although, we had the background, the connections and the education to be successful, we needed to supplement it with the skill and experience of the North Iowa SBDC in the Pappajohn Center at NIACC. We were given access to capital sources and to a network of specialists that shaved years off the execution of our business plan. No one did the work for us, but because of the NIACC-JPEC SBDC, the work we did was much more effective." John Latham, President, Latham Hi-Tech Hybrids LLC, Sheffield, Franklin County, Iowa