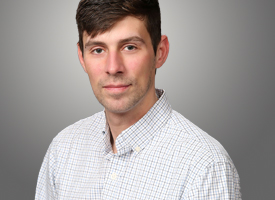 Lucas Frein - August 2021 Entrepreneur of the Month
The NIACC John Pappajohn Entrepreneurial Center and North Iowa Area SBDC are proud to recognize Lucas Frein of Frein Audio & Technology in Mason City, IA as the August 2021 Entrepreneur of the Month.
Lucas Frein is a native of North Iowa but he didn't always think he wanted to build his life, his career in his hometown. His journey to founding Frein Audio & Technology in Mason City was a winding road of discovering how to turn a passion into a successful career. "It wasn't overnight," he says. "It was a process to get to this point."
Lucas has been passionate about music since he received his first guitar on his 5th birthday. He spent his youth playing in church, started his first band at around age 13, and began recording music at 15. "I didn't really know what I wanted to do," Lucas says. So he took some classes at NIACC and the Des Moines Area Community College, played open mic nights, and toured with his band for a few years. With the growing realization of how important recording music was to him, Lucas applied to and was accepted at the Conservatory of Recording Arts & Sciences in Tempe, AZ. He earned a Bachelor of Arts degree in Master Recording and began working in Chicago. During this time, auto-tune was at its heights in the music industry, and Lucas was in hot demand, working 18 hours a day as one of the few people in the world with the relevant training and certifications.
In need of a break, Lucas took a few weeks of vacation in his hometown of Iowa. A few days before he was scheduled to return to Chicago, he met his now wife Colleen. Lucas decided to stay in North Iowa and build something for himself. He began with Frein Audio Engineering, a part-time solopreneur venture doing wiring for church interiors and outdoor events, and teaching people how to mix sound. He worked for several years as an independent contractor and sole proprietor, constantly training for new certificates and adding new services.
"I started branching out to other technology sectors related to audio and landed in the industry when digital started really taking over," he says. "When you find a place where things are changing, you have to diversify or die."  Lucas branched out to security, discovering that his hobbyist experience with black and white photography was directly applicable to security camera work. As the COVID-19 pandemic caused more and more events to shift to online, he began helping organizations with live streaming, making it possible for people to stay connected. Frein Audio & Technology currently offers services ranging from audio/video solutions, security systems, technology and connectivity, and sound reinforcement for events of all sizes.
His biggest project to date was the integrated audio video system for the Mason City Arena, a multi-purpose ice arena and entertainment venue located in a converted department store at Southbridge Mall. "It was very interesting technical work," Lucas says. "It was a very satisfying feeling to hear the end result – seeing all that work come to fruition."
Lucas started his business in a home office working out of a garage, then rented space at the Mason City Chamber of Commerce, then expanded to his own office in downtown Mason City near the Arena. "The Arena is an epicenter," he says. "You can feel the energy and now activity is starting to radiate from it being there." It's been a journey of measured steps, constant learning, and constant evolution. Lucas has some advice for his fellow entrepreneurs. "Going out on your own and actually going for it is scary – there's no other word for it," he says. "One of my favorite quotes is 'Figure out what your passion is and go for it like your life depends on it – because it does.'"