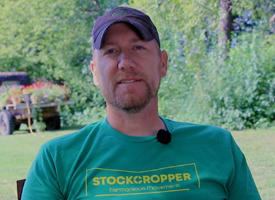 Zack Smith, Stock Cropper LLC - September 2021 Entrepreneur of the Month
The NIACC John Pappajohn Entrepreneurial Center and North Iowa Area SBDC are proud to recognize Zack Smith of Stock Cropper LLC in Lake Mills, IA as the September 2021 Entrepreneur of the Month.
As a fifth-generation Iowa corn and soybean farmer, Zack Smith has seen a lot of changes. Zack founded Stock Cropper in his search to make row crop farming more profitable. The agriculture economy has been struggling, hitting smaller farms the hardest. Stock Cropper has three goals: improve soil for better crops, direct-market meat to customers, and revitalize rural communities. With innovative use of technology, Zack is updating farming's best-practices to create an environmentally and economically sustainable future for farmers. "We were trying to figure out the conundrum of commodity prices being well below the cost of production. We wanted to find an alternative solution," Zack says.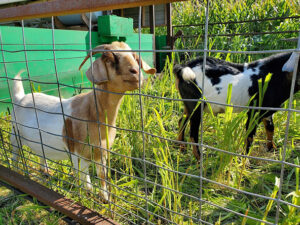 Zack is committed to finding a row crop system that allows farmers to take control of their livelihood, growing better crops by building soil health. The solution gets back to the roots of agriculture – the plants feed the animals, while the animals feed the plants. The Stock Cropper model is based on economic and ecologic resilience. At the heart of Stock Cropper is the ClusterCluck 5000. The Cluster Cluck is a mobile barn that moves through strips of corn, soybeans, and pasture. The barn is home to multiple species of livestock who consume the pasture mix while stimulating the soil with their hooves, snouts, beaks, and microbiomes, leaving behind a rich manure mix to feed the soil. The process benefits the row crops grown between the strips of pasture, and the process is completed by rotating the planting the next year. Increased soil health, improved crops, and healthy livestock – all thanks to a sustainable method that maximizes profitability. The ClusterCluck 5000 is an exciting application of technology in agriculture. Zack and his partners are working towards making the ClusterCluck 5000 fully autonomous. They have developed a fully autonomous prototype, the smaller ClusterCluck Nano, which they plan to scale up, incorporating solar panels, web cameras, and autonomous movement.
Zack's hope is that by using technology, farmers can create a diverse farm operation, boosting productivity, creating jobs, and bolstering rural economies. When it comes to taking an idea and turning it to reality, he says, "If you think you have a good idea, believe in it and show people you believe in it. It's contagious."
Zack worked with the NIACC Pappajohn Center to bring his ideas into practice. He developed his initial business model in the Fall 2020 NIACC cohort of the University of Iowa's Venture School program. Zack also took home first prize at the 2021 University of Iowa's statewide Venture School Launch Day competition at EntreFest in June 2021. Zack says, "Venture School was integral to me getting going. One of the most valuable things was the product and customer discovery – it helped me hone in on my business. It's important [as an entrepreneur] to have that critical self-analysis that Venture School instills in you."
Candi Karsjens, Director of Innovation at the NIACC Pappajohn Center, said, "Zack is a classic representation of what can happen when an entrepreneurial mindset intersects with experience, passion and innovation. Even in the face of obstacles and adversity Zack has never given up on his dream of creating a more sustainable and dynamic farming system."