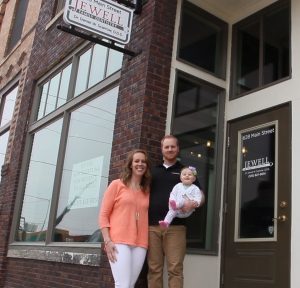 Dan Scarrow – Jewell Dentistry, Jewell, IA
Big city dentistry, small town service
The dream of many young students attending dental school is to one day own their own practice. While a lofty dream for many, it became a real life success story for Dan Scarrow – with a little help from longtime Jewell residents, Fred and Ann Marcalus.
Dan's journey began when Fred and Ann placed an advertisement on the University of Iowa College of Dentistry web page, looking for a dentist for their small community. For years, they waited. For years, no one showed any interest in the position. The dreaded call came after graduation each year, and it seemed to never be the news they wanted. Ann recalled, "They kept asking us if we wanted to keep our name on the list, and we just kept telling them yes, hoping someone would want to come to our town."
When that day finally did come, Fred and Ann were elated. In fact, the entire town celebrated the good news.
Dan Scarrow came across the ad for a community seeking dentist and expressed interest. He and his wife, Meryl, fell in love with Jewell after their first visit. Dan grew up in Clear Lake, and with Merrill being from the Quad Cities originally, the centralized location in the heartland of Iowa was a perfect fit. After researching the area, they found that families had to travel close to thirty minutes just to see a dentist. With Jewell being the home to South Hamilton School, this was disruptive to both students and parents. With such a great need in Jewell, they knew it could be a great success.
Located on Main Street in downtown Jewell, the beautifully restored office location holds a piece of town history. In its glory days, the Longhorn was the place to go to grab a drink and do a little dancing in town. However, after two fires and a collapsed roof, the building had reached the end of the line. The city decided to tear it town when Fred and Ann Marcalus stepped up to the plate and purchased it. They revived the dying building, breathing new life into the structure. The hardwood floors of the old dancehall still remain. Patients often enter and will say, "I used to dance on this very floor!"
Dan and Meryl continued the reconstruction with the help of family members and many local businesses in and around the area. But then the project stalled. "They don't teach you about business in dentistry school," both Dan and Meryl said. "We had no idea what to do next."
Fred suggested they look into programs at the NIACC Pappajohn Center. There, they connected with Brook Boehmler, director of the Small Business Development Center (SBDC). "We went to Brook knowing nothing," Dan said. Brook helped the Scarrows with their business plan and cash flow projections so they could submit it to the bank. They also learned about the many aspects of marketing, advertising, and even the importance of building a social media presence for a small business.
They had been at a dead end; a stalemate for several months not knowing what to do next. "Without the help of Brook, the SBDC and the Pappajohn Center," Dan recalled, "this project may have never happened."
Jewell Family Dentistry will celebrate its one year anniversary this June. They are currently taking on new patients and would be happy to help you with all of your dental needs.