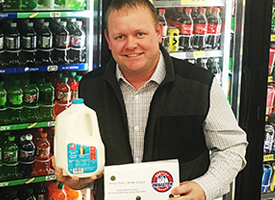 Brad Jones - February 2020 Entrepreneur of the Month
The NIACC John Pappajohn Entrepreneurial Center and North Iowa Area SBDC are pleased to announce Brad Jones of Jonesy's Stop n Shop in Rockwell, IA as the February 2020 Entrepreneur of the Month.
Brad Jones is a Rockwell native and entrepreneur with a vision to solve the problem of a rural food desert. Rural food deserts are more common than you might think – although surrounded by hundreds of acres of farmland, rural communities often struggle to access groceries, especially fresh and unprocessed foods like fruit, vegetables, and meat. Rockwell, IA has a population of a little over 1,000.
In 2014, with the recent closure of the town's only convenience store, Brad Jones decided it was time to take matters into his own hands. Brad contacted the North Iowa Area SBDC for advice in purchasing the local gas station and convenience store that had recently closed with an eye toward making sure Rockwell citizens had food and fuel access. Brad persevered through the process of financing and purchasing the building from the previous owner, and held the Grand Opening of Jonesy's Stop n Shop in January 2016. "Working with the SBDC was a great experience," Brad says. "Especially their help with obtaining financing. Before we started working with the Pappajohn SBDC, we heard the word no many times but we kept going after it. Once we got the business plan put together and the numbers set in stone, everything fell into place.
Since 2016, Jonesy's Stop n Shop has expanded its grocery options and opened a casual counter service restaurant within the building. Jonesy's offers pizza, broasted chickens, and lunchtime specials – all cooked on site. Brad Jones helping feed his community and has plans for continued expansion: his next step is to expand into fresh meat, something that the people of Rockwell have to drive almost 30 minutes to buy.
Brad is the kind of energetic entrepreneur who saw a need in his community and decided to be the one to do something about it. He says, "I knew that the people of Rockwell needed this store – I really wanted to have it there and have it open. And it was up to me to get it done. So I did."