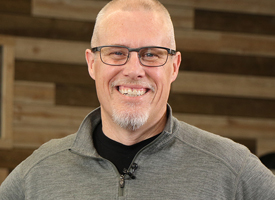 Matt Curtis - March 2020 Entrepreneur of the Month
The NIACC John Pappajohn Entrepreneurial Center and North Iowa Area SBDC are pleased to announce Matt Curtis of Wayne's Ski & Cycle in Mason City as the March 2020 Entrepreneur of the Month.
Matt Curtis purchased Wayne's Ski & Cycle in 2004. Matt had never thought of being an entrepreneur or owning a business before. But when the previous owner, Wayne, approached him about buying the business, Matt realized how much he liked the idea. "I followed the dream that I didn't even know I had," he said. "I discovered I wouldn't have to wear a tie or work for a corporation. I loved the lifestyle, working around all the things I liked to do, and I liked selling. It's rewarding to learn about the new products and technologies and help customers better enjoy their lifestyle through better products."
Matt had been working at Wayne's off and on since 1992, first while he attended NIACC and later when he moved back to Mason City to pursue a career in Human Resources. Wayne's was originally founded in 1976 as part of a regional chain of sporting goods stores. Its continued presence in Mason City has been in large part due to the dedication and buy-in of its employees, and is an example of the importance of succession planning for a locally owned and operated business. Small business owners must think ahead to keep their business open after retirement. Wayne's Ski & Cycle has now been operating continuously in Mason City for 44 years.
In 2004 Wayne's Ski & Cycle moved from their downtown Mason City location to a new building on the west side of town. "It was the right decision at the time," Matt said. "We needed the space and the accessibility." Now, almost twenty years later, Wayne's Ski & Cycle has moved back to downtown Mason City in a newly renovated, spacious building. As rural downtowns work on revitalization, local businesses are buying in. Matt worked with the NIACC Pappajohn Center & SBDC during their move downtown through the process of purchasing and renovating the new building.
One of Matt's most important entrepreneurial lessons: "If there's one thing I've learned, it's that you have to take a chance." Business is always changing and evolving – what worked 20 years ago isn't necessarily what works today. Matt has worked to keep Wayne's Ski & Cycle nimble and relevant. This has included finding a new business niche like early fall ski swap events to boost off-season sales, establishing a culture of employee buy-in that's open to suggestions and new ideas, and moving the business location back to downtown Mason City.
As the March 2020 Entrepreneur of the Month, Matt has been adjusting to the current turbulent times resulting from the global coronavirus (COVID-19) pandemic even as this profile was being written. Like every other business, Wayne's Ski & Cycle is working to limit the impact of the virus on the health of our citizens and their freedom and livelihoods. Taking care of our community's emotional and mental health during these uncertain times, in addition to the physical health of both customers and employees, has led Matt to make changes in the way they serve their customers. Curbside pick up and drop off, home drop off and delivery, and online shopping + local delivery are some of the ways Wayne's Ski & Cycle is working to keep their customers on the road while also limiting the spread of the virus.
During this unprecedented time, one thing remains certain – North Iowa's entrepreneurs will be innovating and adapting, and continuing to find ways to serve our community.