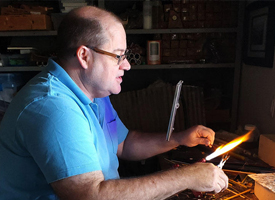 Karl & Jean Schilling - September 2019 Entrepreneurs of the Month
The NIACC John Pappajohn Entrepreneurial Center and the North Iowa Area SBDC are proud to announce Karl and Jean Schilling of Kaleidoscopes to You as the September 2019 Entrepreneurs of the Month.
Kaleidoscope to You is a mosaic of a small family business. Located in the small North Iowa town of Manly, the business has been lovingly assembled from the merging of two family-owned businesses. Karl Schilling began working with glass in junior high with a stained glass apprenticeship. His parents were entrepreneurs and encouraged him to use his talent and passion in his own entrepreneurial endeavor. In 1982, they began by creating kaleidoscopes out of stained glass for the House on the Rock, Wisconsin's famed tourist attraction. After receiving his Bachelor of Fine Arts from the University of Wisconsin-River Falls, they opened more art glass galleries, including a store dedicated only to kaleidoscopes in the Mall of America.
Jean Schilling also comes from an entrepreneurial family. Her mom owned and operated The Plant Ranch, a florist and greenhouse with locations in Manly and Mason City, IA. Jean graduated with degrees in economics and neurobiology, but couldn't shake her love of the family business. The entrepreneurial life kept calling to her, and in 1997 Jean and Karl moved back to Manly to merge their family businesses.
By 1997, Karl and Jean were operating five storefronts in three states for all their combined businesses. They knew, however, that they would need a plan to fully transition their businesses from the previous generation to the new generation. Karl and Jean enrolled in the very first entrepreneurial training course from the NIACC John Pappajohn Center, FastTrac (later renamed Launch & Grow). The 10 week program guided entrepreneurs through creating a business plan, cash flow, and the other fundamentals of starting and growing a successful business. Jean says, "The FastTrac class really helped us. We were at a point where we had to figure out the best way to keep moving forward." Karl and Jean merged their businesses fully in 1997, diversifying their revenue stream under a single business.
Kaleidoscopes to You serves an admittedly niche market. Jean attributes their success in this tough industry to their early adoption of e-commerce. They began selling online in 1998. eBay had only been operating for two or three years, and Amazon.com had just started to sell more than books. Online shopping barely existed – but the Schillings knew that this was the future. Jean says "We just knew online was the only way forward. We knew we couldn't run this business in rural Iowa without a national, an international reach." The Schillings were committed to staying in rural Iowa – the low cost of living, beautiful landscape, and close ties to friends and family were important. The success of e-commerce made their business viable. "With the internet, it became a win-win to base our business here," says Jean. "When it all began, we didn't have internet at the shop, or at home. We had a few website pages and a phone number, and people started calling." In 2006, the Schillings closed the florist and greenhouse to concentrate on their growing online sales.
Kaleidoscopes to You continues to evolve its business model as the retail landscape shifts. One of their developments is the in-house creation of promotional pieces for museum shops, tourist locations, trade shows, party favors, and more. For example, you can purchase an original Karl Schilling kaleidoscope at the Space Needle gift shop (the Space Needle has been a client for ten years). The Schillings' creativity and innovative approach to family business has capitalized on an international market from right here in rural Iowa.