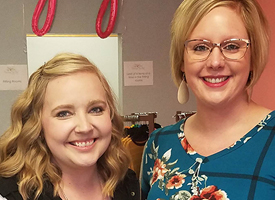 Lacey Huisman and Michele Johnson - October 2019 Entrepreneurs of the Month
Lacey Huisman and Michele Johnson are flipping the script for rural retail with Petunias & Pixie Dust, an online boutique and pop-up store based in Osage, Iowa. Lacey and Michele founded Petunias & Pixie Dust for a simple reason – their community needed it. Lacey and Michele had noticed that there was a common lament from their friends and coworkers in Osage – no one could find attractive and affordable clothing. Michele had been purchasing clothes online from online boutiques for years, but there were no local options. The rise of online shopping has irrevocably changed modern retail, and small rural communities have seen some of the worst effects as traditional brick and mortar stores close. Lacey and Michele are part of the wave of small business owners who are revolutionizing retail by capitalizing on technology and experimenting with new business models.
Lacey and Michele took matters into their own hands and opened Petunias & Pixie Dust in October 2017. An innate understanding of their target market led them to begin selling directly to their customers using Facebook. Word of mouth, local ownership, and an instinct for selecting unique, well-priced, and inclusively sized apparel made Petunias & Pixie Dust immediately popular. "I think we've done well since the beginning because we have stylish clothes in extended sizes, from Small to 3XL, and everything is $50 and under," Lacey said. "But we also keep it personal with the customers," added Michele. "We use Facebook Live to talk about new products, feature our favorite things, but we also just chat."
Lacey and Michele supplemented their online sales with private parties, diversifying their customer base and ensuring that they stayed true to their initial mission of local fashion. At first, they put on three events per year. In September 2019, after two years of primarily online sales, Petunias & Pixie Dust opened a pop-up shop in downtown Osage. The new location provides increased space for inventory and shipping, while also creating a stop and shop location. The brick and mortar space has allowed Lacey and Michele to experiment with regular store hours for their existing customer base (and prospective new customers), while also increasing the number of private parties that can be hosted.
Lacey and Michele have worked with Brook Boehmler of the North Iowa Area SBDC, primarily as they transitioned to adding the pop-up shop. They enrolled in Venture School in Spring 2019, a 7 week entrepreneurial training program taught by the University of Iowa on the NIACC campus. "We learned a lot about our market during Venture School," Michele said. "The customer discovery was very insightful. But the most priceless benefit was meeting some very good local mentors."
The new model for retail is dynamic and more than just brick and mortar. "For two years, we essentially ran the business entirely from our cell phones," Lacey noted. "Now that we're in downtown Osage, people are excited we're here. But we always want to be thinking outside the box." Lacey and Michele have built a successful local business that fulfills an important niche in rural Iowa by challenging the retail status quo and using innovative methods to reach and serve their customers.
Learn more about Petunias & Pixie Dust by visiting them online.