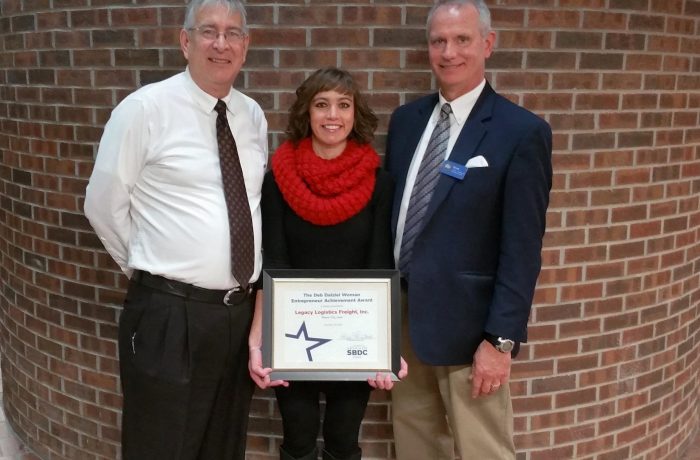 Winner of the 2016 Iowa SBDC Deb Dalziel Woman Entrepreneur of the Year Award
Sarah Novacek, President & Owner, Legacy Logistics Freight, Inc.

Sarah Novacek is building a multi-million dollar logistics business from humble beginnings as the newly-wed wife of a kid from a truck-driving family, just trying to help her husband find loads and get paid. Her ah-ha moment was wondering, "How do truckers do it who don't have a wife or girlfriend?" That led to offering her service to other independent truckers. Flash forward ten years.
She's grown from an adjunct of the in-law's trucking business, to a solo broker operating out of an in-home basement office, to now a corporation with more than $2.5 million in annual revenues serving national brand name food companies like Jennie-O, Hormel, Michael Foods and more.
2015 saw major advancements including:
100%+ revenue growth;
transition from a "doing business as" (DBA) structure to a new corporate entity to accommodate future growth; and
moving into professional office space within the North Iowa John Pappajohn Business Incubator.
The changes and growth of the last eighteen months are a direct result of Sarah's coaching from the North Iowa SBDC counselors, Brook Boehmler and Daniel Winegarden.
Sarah explains, "Working with the SBDC has changed our lives. Literally. They've helped us grow a good idea into a great company with a focused message and vision. I'm a hard worker but didn't always think like an entrepreneur. The SBDC helped me understand that for my corporate customers and the truckers with whom we place customer loads my rural work ethic is an advantage. I didn't grow up rich or connected. I know the life of a trucker. I'm married to one. As a load broker, understanding the process and problems that can arise for everyone involved is critical. You don't need a fancy degree to be successful. I am a business owner and now I think like one. My job isn't to do everything; it is to see that everything gets done. And, it's not who you know, but who you get to know. I work with corporate executive clients and self-employed truckers by treating each of them well but also being direct when necessary. My coaches have my back. Brook Boehmler knows marketing and support systems. Dan Winegarden makes complex strategy and corporate finance seem simple and obvious. We've gotten so much better at telling our story and our unique advantages and it shows in sales. The SBDC is a big part of our success. Maybe the biggest thing is they believe we can do it. They're advisors, sounding boards, and cheerleaders. We've been exposed to other entrepreneurs and you know what? If they can do it, so can I. The financial success provides jobs for four people and allowed us to buy a new, bigger home to hold a growing family."
Legacy has never lost a corporate client and continues to add clients and new volume from existing clients. Combine this with the overall revenue growth and profitability and it's a significant measure of customer satisfaction.
Dan Winegarden relates, "Sarah sees the value they add to the community and region. Her brokerage plays a critical role in moving our high value industrial output to market, contributing to the economic success of not only her own company, but all those involved in the food chain. She's positioned Legacy to scale with systems that allow employees to deliver consistent quality service with all the appropriate and necessary documentation for compliance and payment. It's a smart business that plays to Sarah's strengths in dealing with people, but it's also a business that requires attention to detail. Legacy Logistics handles personalities and documentation equally well."
Sarah explains, "I wanted to own my own business since college in 2001 introduced me to a bigger vision of opportunity. I married into a family of over-the-road independent truckers. My new husband and father-in-law were both small business owners, but I immediately saw the limits of their business. There was no good way to grow the business. It was capital intensive because of the expense of the trucks. It was labor limited because there are only so many hours in a day that drivers are allowed to operate a truck. And it required active management of cash flow with high fuel expenses and the time delay between when a load is delivered and when shipping clients pay. Somebody had to first acquire a load and then do the follow-up paperwork to prove timely delivery and get paid by the shipper. If that somebody was driving a truck full-time the office work tended to suffer."
Sarah continues, "My new husband, Brian, had grown up in the front lines of the transportation logistics industry. He had hard experience in driving, accounting, payroll, dispatching, collections and more. He'd dealt with problematic shippers, receivers and drivers and knew the excuses. While Brian knew the drivers, I learned the logistics business facing the shippers as my key customer. Drivers are necessary but not sufficient. No loads from the shippers? Then, nothing for drivers to do. Shippers were the indispensable relationship. I learned how to cultivate, acquire and sustain relationships with profitable shippers."
Ambition counts for a lot. "Brian and I agreed when first married that we wanted our own businesses that let each of us do what we do well. Controlling our own time was a motivator in our '5 Year Plan.' I suggested that we didn't have to own the trucks. So long as we controlled the shipper relationship, we could place the loads and fulfill the contracts by brokering loads to other drivers. It was what I was already doing for ABC Trucking but now I could see the path to a larger scale. I became a broker."
Sarah turned the key on her new business in 2006. "A Fortune 100 food company shipper was my first client. I began brokering loads for Jennie-O turkeys to multiple trucking companies and not just ABC Trucking."
Legacy Logistics rapidly grew into a multi-million dollar business in just a few short years. Gross income in 2006 (year 1) was $198,657. In 2014 Legacy Logistics grossed over $2,747,377. The company is almost 14X larger in seven years. Sarah now has multiple national food company clients. She grew the company right through the Great Recession by focusing on food company clients. "People have to eat," Sarah explains the logic of her strategic focus.
This year Legacy incorporated as the scale of the business grew and Sarah had more need of a liability firewall between the business and personal assets. Sarah is responsible for leadership and management, especially getting, growing and keeping shippers, the lifeblood of the company. Mary Novacek is the controller. She can help with dispatching and customer service and is Sarah's back-up. The company is 100% female-owned and managed.
Another area of SBDC assistance for Legacy Logistics is guidance on registering as a Targeted Small Business (TSB) as a female-owned and managed company. Many government procurement contracts require a set-aside for some share of the contract spending to go through targeted small businesses. TSB status is a point of service differentiation and competitive advantage in a male-ownership dominated industry. This is one of Sarah's growth strategies going forward as many of her current customers do business with federal and state governments.
Legacy Logistics outgrew the humble home-office setting. It now operates from the John Pappajohn Business Incubator, a co-working space operated by Sarah's alma mater, North Iowa Community College (NIACC) and its John Pappajohn Entrepreneurial Center. The incubator provides both a professional working environment and the business coaching assistance of the SBDC. Sarah concludes, "John Pappajohn is a billion dollar venture capitalist from Iowa who helps fund support services for younger entrepreneurs, like myself, in five centers throughout Iowa. He started in a family grocery store while going to school at NIACC. It's not where you started that counts. It's what you build on that foundation."