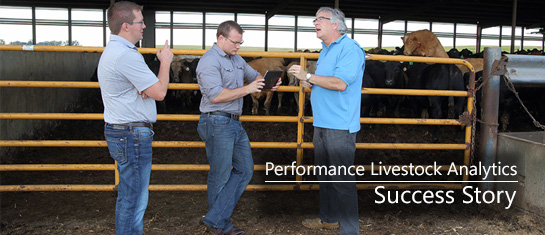 Big data and data analytics thrive on Iowa's prairie
Dane Kuper & Dustin-Balsley, Co-founders
It's a mistake to think entrepreneurial companies only grow in urban canyons, suburban parks, or academic halls. The most recent winner of the annual statewide John Pappajohn Entrepreneurial Venture Competition is a rural company serving rural customers by applying the same sophisticated information technology driving change in Silicon Valley. Performance Livestock Analytics deploys big data analytics through mobile devices like an iPhone. They created an easy to use and understand app for cattle producers.
Performance Livestock Analytics is changing livestock marketing by putting key data and timely action alerts in a cattle producer's hand. And doing so when it's time to act, with powerful real-time software. Ag producers can't afford hit or miss marketing anymore. They have to take advantage of narrow market windows to lock in profits as they occur. Reading about yesterday's closing market prices in the newspaper the next day is too late. Even seeing today's market data on the desktop computer after field work is done is too late. Markets are closed. It's not actionable information. The opportunity is history not news.
More than seventy percent of a beef producer's profit is determined by three prices: what the farmer pays for young feeder calves; the cost of feed to grow calves for six months or so; and the sales price for fed calves. The problem? The three prices are constantly changing, day to day, minute by minute.. To further complicate matters, there is both today's market (current cash price) and a futures market price (price for delivery on a future date, with opportunities to put or call future production).
In similar circumstances, Wall Street pays a fortune for marketing-leading, high-speed trading technology to capture arbitrage (profit-taking) opportunities lasting only seconds or minutes. Performance Livestock helps farmers lock in profits (or manage risk) when the commodities markets offer similar narrow market windows in local livestock and grain markets. Current competitive alternatives are too slow and too late because livestock producers are not desk bound but multitaskers. Performance Livestock's CEO Dane Kuper says, "Traditional marketing does not keep up with today's market volatility, The Cattle Krush app changes the game for cattle producers. No longer are they subject to volatility, they now have the power of our app in the palm of their hand."
Dane explains, "Our Cattle Krush App puts the key data already custom analyzed to the farmer's unique situation into an easy to understand format on a 4G high-speed smartphone or tablet. It's in the farmer's hand whether he or she's in the pickup,at the sale barn, or in the field. A desktop computer sitting in the farm office just isn't convenient or timely enough. To succeed today, it has to be my farm's data and current prices in my local markets. Our pop-up alerts help farmers pull the trigger before the target disappears."
COO Dustin Balsley expands, "Timely market action is even more critical now with low grain and livestock commodity prices. Bankers want their client farm borrowers to have a handle on costs and a proactive marketing plan to maximize profits. Our Performance Beef App maximizes production efficiencies. Together our products Performance Beef and Cattle Krush are the answer."
Performance Livestock Analytics is the brainchild of two Osage, Iowa area farm kids all grown-up to become high-tech entrepreneurs. Dane Kuper and Dustin Balsley were high school wrestling teammates. They built muscle and the Iowa work ethic throwing hay bales and doing the daily work of raising cattle and hogs. They went off to college for degrees in Agriculture. Their sales success and hustle won them careers in California with an early innovator in analyzing data to maximize row crop production and profitability. They decided the same information technology trends and tools could be applied in livestock production and marketing. While still working that row crop day job they built their livestock platform by side hustling at night and on the weekends.
That's where the NIACC John Pappajohn Entrepreneurial Center helps. The Pappajohn Center includes the regional Small Business Development Center (SBDC) and the NIACC Pappajohn Accelerator working together to serve North Iowa Businesses. A lot of great programming is available in Iowa for entrepreneurs cultivating early-stage high-growth companies. Most of those options don't work for mid-career executives with a day job and family responsibilities. But the NIACC Pappajohn team is located in rural Iowa. It focuses on the industries that drive Iowa's rural economy including agriculture, logistics, and advanced manufacturing.
Accelerator Director Daniel Pitts Winegarden says, "Many people don't understand just how scientifically driven agriculture is. Ag is up there with medicine in applied science and demand for data. Performance Livestock Analytics is a perfect example. The tools of IT cross the vertical industry silos. We can take lessons from a similar problem in row crops or stock trading and apply it to livestock production and marketing."
Winegarden is an SBDC business coach focused on Accelerator opportunities, high-growth, high-tech companies seeking business out-of-state and importing dollars and jobs to Iowa.
Winegarden coached Dustin and Dane to polish their business pitch in preparation for the Venture Competition. "As a client of the SBDC, they came in with a brilliant business model already on the verge of launch. It was easy for ag customers to understand their unique value proposition. I helped them tell their best entrepreneurial story so the non-ag community could understand the market opportunity. And I did so after hours with one-on-one coaching because that's when they had time to be entrepreneurs."
Dustin explains, "With Dan and the NIACC Pappajohn Center we found deep expertise that immediately grasped the business and helped us tell the story more effectively. We didn't have to educate him. He showed us new connections. His examples or illustrations made it easier to explain our ideas and made the benefits feel real and realizable. Even if our listener never set foot on a farm."
Dan says, "Dane and Dustin are something of an entrepreneurial dream team. They know leading edge information technology. They've deployed for others all the trendy 'buzzwords' of change. Cloud storage, software-as-a-service (SaaS), big data, data analytics, Internet of Things (IoT), and real time management dashboards aren't theory but practice to Dane and Dustin. They've done them for others. They also know the livestock producer customer, because they are livestock producers. They both operate cattle feeding operations of more than a 1,000 head a year. And they're marketers and salesmen. Almost never do startup founders begin with all three areas of expertise in a single leadership team. Here the founders know the business problem, the IT solution, and sales."
The proof is in their results. Performance Livestock Analytics won out over a talented field of more than fifty Iowa startups to claim the $25,000 first place prize from the 2016 John Pappajohn Entrepreneurial Venture Competition.
"I see a lot of business models, plans, and entrepreneurs. This win is well-earned by Dane and Dustin. Performance Livestock Analytics stands out for its exceptional leadership team and a fabulously polished business model. They're already racking up key partners and customers like Producers Livestock Marketing Association. They have both market insight and market access to the target customer. They know IT. And they can sell. I couldn't be more impressed and proud of their progress."
With the win comes the attention of high profile customers and potential investors to fuel additional sales and growth. Dan explains, "Dane and Dustin are brilliantly exploiting their knowledge of the network of supporting players and consultants like animal nutritionists that work with livestock producers." This network is part of the marketing and distribution channel to capture new users.
They've started with the cattle market because their longer production life cycle makes market swings a bigger pain point for farmers. Markets can swing from profits to deep loses before a six month old feeder calf is a finished, fed calf at eighteen months. The same basic tools of real-time local price discovery, data analytics tailored to a producer's unique herd and cost structure, and timely convenience will come to additional markets as Performance Livestock grows.
Dustin concludes, "Individually tailored action alerts in your hand, where you are, when it matters, beats unconnected data on a desktop, after the market window closed."
Beef producers want to be more profitable. Beef producers' bankers want less risk and a proactive profit maximization plan. Performance Livestock Analytics' Performance Beef and Cattle Krush apps answers both problems. And does so from the real world of rural North Iowa with all the high-tech tools of Silicon Valley. Iowa ag entrepreneurs are succeeding with expert entrepreneurial assistance from the NIACC Pappajohn Business Accelerator.