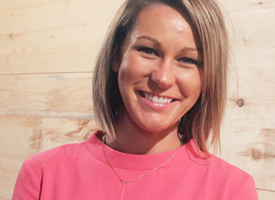 Tiffany Rottinghaus - February 2018 Entrepreneur of the Month
The NIACC Pappajohn Center and North Iowa Area SBDC are proud to recognize Tiffany Rottinghaus and Mara as the Pappajohn Center Entrepreneur of the Month for February 2018. Mara, a bridal and special occasion boutique, opened in Charles City, Iowa in 2017. Tiffany dreamed of owning a bridal store ever since she was in sixth grade. After working in the bridal and formal wear industry for several years, she made the leap into entrepreneurship in 2017 with Mara.
Tiffany worked with the Pappajohn Center and the North Iowa Area SBDC to open Mara, and developed her business plan through Launch & Grow. Tiffany says, "The biggest thing about Launch & Grow for me was gaining confidence. It was a safe place to figure out the details before getting out into the real world. It was the beginning of learning what it takes to gain a good network of professionals – accountants, lawyers – that you need to know to run a business."
When her first location for Mara fell through, Tiffany quickly repositioned herself and purchased a nearby building instead. Converting the historic home into a store required revising her plans and putting in some hard work, but revealed an unexpected bonus: a small standalone studio converted into an elegant space for seasonal purposes like prom dresses and tuxedo rentals. By staying open to change, she took a stumbling block and turned it into an important part of the boutique. The prom dress studio has proven to be a popular addition to Mara. Tiffany's nimble approach to obstacles and zeal for opening her own boutique are part of what makes her an entrepreneur to watch.