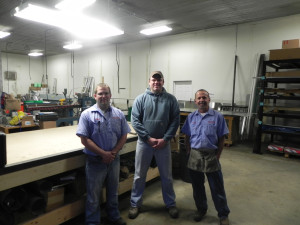 Nathan Bartels, North Central Mechanical Services Company, Mason City, IA
Nathan Bartels began his career as an apprentice heating and air conditioning specialist the summer before completing college at North Iowa Area Community College. During the next 12 years he completed his heating and air conditioning certification while working first for Comfort Inc. and then for Mechanical Air Systems.
While he was gaining experience working for others, Nathan's level of confidence in managing and operating his own company increased and he decided he'd like to start his own business. Good customer relations and providing excellent outcomes for clients validated his feeling that he would be successful implementing his personal vision and work ethic within his own company.
Barriers for Nathan to move forward with forming his own company included amassing adequate capital necessary to provide the type of service that customers in North Iowa demand. Nathan began to formulate his business plan and accumulate the necessary tools and cash to launch his own company.
Knowing that he needed additional help, Nathan contacted Ted Bair, Regional Director of the North Iowa Area Small Business Development Center (SBDC), to evaluate his business plan, help determine cash flow needs, and discover options for financing of additional capital needs such as a larger service vehicle and starting inventory. While meeting with Ted, Nathan secured the services of an attorney and formed an "S" Corporation, to provide the legal structure of his business. He also initiated discussions with U.S. Bank for financing.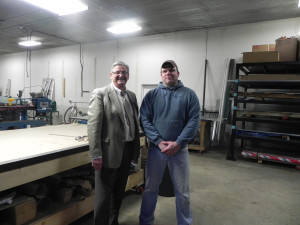 North Central Mechanical Services Company opened for business on August 18, 2010 with the help of an SBA-guaranteed loan and a guaranteed credit card, both through U.S. Bank in Mason City. Nathan also obtained a truck loan from a dealer offering internal financing, plus he personally invested tools and cash into the business. The company provides commercial and residential heating, air conditioning, and refrigeration parts and services within 50 miles of Mason City.
Praising the business advice and assistance he received from the SBDC, Nathan says, "Ted Bair and the SBDC have been very helpful in validating my concept and pulling all of this together, and I look forward to our continued relationship on a monthly basis to assess progress and also fulfill the SBA Community Express Action Plan."
Nathan's great reputation and good customer relations skills helped his company to grow quickly and in 2011, with additional advice from the SBDC, he was able to move his business from his home to a building the company purchased with additional financing from U.S. Bank. He has also purchased additional equipment, more service trucks, and added five full-time positions, all to better serve his customers.
In 2011 the company had a 250 percent increase in sales over its 2010 figures and it is projected to do even better in 2012. And as Nathan grows his business further, he knows he can go back to the SBDC for more great advice.