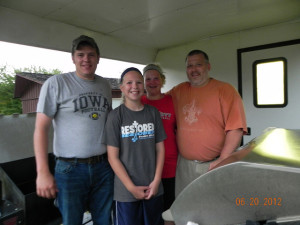 Owen's Family Concessions LLC is a certified and licensed business founded in February of 2012 by its owner Mike Owens of Leland, Iowa. OFC LLC provides concession services/products for special events (Civic and Private) as well as Fairs and Fundraisers in North Central Iowa Region. Mike and his family are located in Winnebago County at 40862 160th Avenue, Leland, Iowa and can be reached at 641-590-0207 or by email at ofetc@gmail.com.
In December of 2011 Mike Owens contacted the SBDC of North Central Iowa at NIACC requesting help in forming a business entity to provide concession services. Mr. Owens had some limited previous experience providing concessions to special events in his role as Scoutmaster for his local Boy Scout Troop. Having been recently laid-off from his job, Mr. Owens saw a potential opportunity to develop a business around providing concessions, but lacked business experience and sought help from our Center to help with starting this venture.
Several sessions took place with the client as he refined his concept, began forming operational guidelines and identified start-up-costs. In February of 2012 Mr. Owens formed his Limited Liability Company (Owens Family Concessions LLC) and we began the search for funding his company in preparation for launch. Preparing financial forecasts based upon research data, food cost analysis, overhead projections, we were able to outline goals and objectives financially and presented to his bank for funding his start-up-costs. Bank agreed to the request for trailer funding and along with funds provided by NIACC Nano-loan fund for additional equipment and working capital, Mr. Owens was ready for business.
Mike also started our 10 week boot camp for new businesses (FastTrac) in April of 2012 and graduated with a completed business plan and much more confidence and validation his project would be successful. While Mike attended these sessions he was securing events for Spring/Summer/Fall events.
Mike and his family completed their first calendar year in business providing concession services for events with sales exceeding . Mike has been an excellent example of a entrepreneur with passion and knowledge of what he wants his business to look like. Mr. Owens represents opportunity through adversity by creating a service business benefiting others while creating value and wealth for his family.