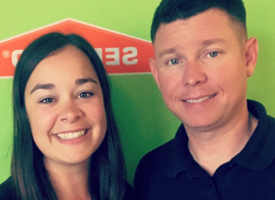 Keith and Holly Messenger - July 2019 Entrepreneurs of the Month
Keith and Holly Messenger have owned SERVPRO of Mason City since October 2017, when they purchased the business from its original owners of ten years. SERVPRO provides a professional response to property damage emergencies. Clients include insurance companies seeking superior and timely restoration services, as well as commercial and residential property owners who require routine cleaning services. The SERVPRO franchise system was founded in 1967 and is a national leader of cleanup and restoration services.
SERVPRO of Mason City has recently expanded, adding a 10,000-square foot addition to its facilities. The addition includes a cleaning room to process clients' contents damaged by disaster, a classroom for staff training and meetings, and more.
Keith and Holly have been entrepreneurs and small business owners since 2007, when they opened ProClean Professional Cleaning Services which provides services to both residential and commercial customers. When Keith and Holly saw the opportunity to expand their entrepreneurial endeavors, they jumped at the chance. They have been steadily expanding their service area across the North Iowa region. Both Keith and Holly are born and raised North Iowans, and are committed to growing their business in their community.
"We're invested in the future of Mason City and our customers' needs," says Keith. "As we've grown, our mission has never changed. We serve the people, the businesses and organizations of the Mason City area that help make our community great."
SERVPRO's mission is to help people recover from property damage emergencies, but their focus on people isn't limited to work hours. Keith and Holly know that small businesses play an important role in the community and make it a point to give back whenever possible. SERVPRO of Mason City held an Open House in June 2019 and used the opportunity to provide free emergency preparedness presentations, and partnered with the American Red Cross for "Sounding the Alarm" (an initiative that installs free smoke alarms for those who cannot afford or are physically unable to install a smoke alarm).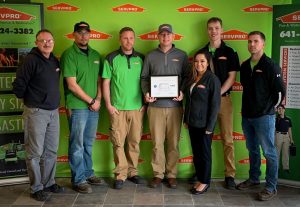 In May 2019, Keith was presented with the ESGR Patriotic Award, a recognition from Employer Support of the Guard and Reserve (ESGR), a Department of Defense program that acts as liaison between Reserve Component Service members and their civilian employers. The award recognizes Keith and his team for their support of employees who have gone in active service while employed at SERVPRO. SERVPRO was also recently recognized by the readers of the Globe Gazette of Mason City as the top pick in Cleaning Services in the 2019 Readers' Choice awards. Keith is currently ranked in the Top 100 of SERVPRO dealers and received the Resale Rookie of the Year at the 2019 SERVPRO National Conference.
SERVPRO continues to grow steadily, providing much needed services to North Iowa while also creating jobs and opportunities. Keith and Holly Messenger are passionate entrepreneurs dedicated to growing and improving North Iowa.