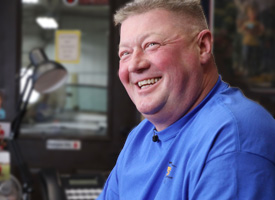 Butch Gruelke - March 2022 Entrepreneur of the Month
The NIACC John Pappajohn Entrepreneurial Center and North Iowa Area SBDC are proud to recognize Butch Gruelke of Butch Gruelke Auto Body in Hampton, IA as the March 2022 Entrepreneur of the Month.
Butch Gruelke has been in interested in auto body repair most of his life. After crashing his car as a young man, Butch's dad told him he had to either fix it himself or drive the wrecked vehicle. Butch fixed it and began his journey to entrepreneurship. Gruelke Auto Body began in a two-stall garage in 2005, and now in 2022 is at its third, and most advanced, location. After several years in the Iowa National Guard, Butch seized the opportunity to start his own business. He credits his time in the military as good training for entrepreneurship, especially the leadership, organization, and management skills that are key to business success. "I learned from the example of my sergeants," Butch says. By translating military training to owning a business, Butch emphasizes attention to detail and ingenuity, always looking for ways to improve and keeping the business's finances organized. "It's very important to stay on top of the financials," he says. "You have to know your cash flow and your inventory needs to succeed."
Gruelke Auto Body has evolved through the years to fit Butch's dreams and his customers' needs. One of the important entrepreneurial lessons he's learned, Butch says, is to know when to pull back and focus on his business's niche. "From the beginning, my dream was to everything that we could to an automobile – from mechanical, electrical, auto body repair," he said. "But as we grew, we got so big that everything was getting jumbled. [In the last few years] We decided to scale back and focus on what we're really good at – and what we're really good at is auto body repair." Finding and focusing on his primary market segment has allowed Butch to concentrate on sustainable growth. It has also given him the ability to stay on top of the changes in the industry, investing in new equipment and employee training to better serve his customers' needs.
Butch worked with the NIACC Pappajohn Center & SBDC to develop his business model and he emphasizes the importance of having a plan and partners to help you implement that plan. "We took a lot of that [business model] information and applied it to our daily business routine," he says. "We're always just trying to find where we need to be, and then get there." Butch and Jen Gruelke (his wife and partner) say that the support and partnership from the Pappajohn Center & SBDC, their bank, their customers, and each other make the business what it is. Jen Gruelke said "We can't do this without our employees and our customers. Our customers really do become our friends." Butch added, "Thinking through the years in business, my wife is my main partner and I couldn't have done it without her."